The Fujisan Kawaguchiko Winter Fireworks Festival, which was postponed or suspended due to the COVID-19 epidemic, will finally be held in 2022 as scheduled. If you plan to go to the Lake Kawaguchi area to watch the winter fireworks festival this year, you can also go shopping around the Kawaguchiko station and buy some souvenirs with the characteristics of Mount Fuji. We have compiled a list of 5 kinds of souvenirs with the characteristics of Lake Kawaguchi, Mount Fuji, which are delicious and beautiful and can be used for reference. The images are from the official websites of various souvenirs, if you are interested, you can also click directly to view them.
For more information about the Lake Kawaguchi Fireworks Festival, please see this article: 2022 The Winter Fireworks Festival in the Lake Kawaguchi Area of Mount Fuji (January 22 – February 20) weekend and February 23)
Fujisan Kawaguchiko Accompanying Gift ①: Mt. Fuji-shaped Bread
Image source: https://fujisan-shokupan.com/
CDJapan Rental has a great deal on pocket wifi, with a range of flexible plans starting at ¥187/day.
Japan Pocket Wifi Rental
Mountain Fuji-shaped toast This toast is made in the shape of Mount Fuji by dyeing the bottom half aqua blue. When you cut it open, you will be impressed by the originality of the design.
This toast is not only beautiful but also dyed with the natural water of Mount Fuji and the grape juice of giant grapes, a specialty of Yamanashi Prefecture. The texture of the toast is very soft, and the bite is full of sweet flavor.
Fujikawaguchiko Souvenir ②: Marigold Shingen Cake
Image source: http://www. kikyoushingenmochi.com/product/3/
Orangery Shingen CakeOrangery Shingen Cake is a specialty of Yamanashi Prefecture, produced by Orangeryya, a Japanese confectionery store in Dibuki City, Yamanashi.
Although it's called Katsura Shingenbake, Katsura is not the raw material for this kind of snack, but the word Katsura is added to the store name in order to distinguish it from the Shingenbake produced in Hokuto City.
Orangette Shingen cake is a black mochi wrapped in soybean flour and topped with brown sugar. This snack is so famous that it was once ranked in the top ten of the most wanted souvenirs in Japan. If you have a chance to visit Mt. Fuji or Lake Kawaguchi, be sure to buy it and try it.
Fujisan Kawaguchiko Accompanying Gift ③: KITKAT Fuji Limited Flavor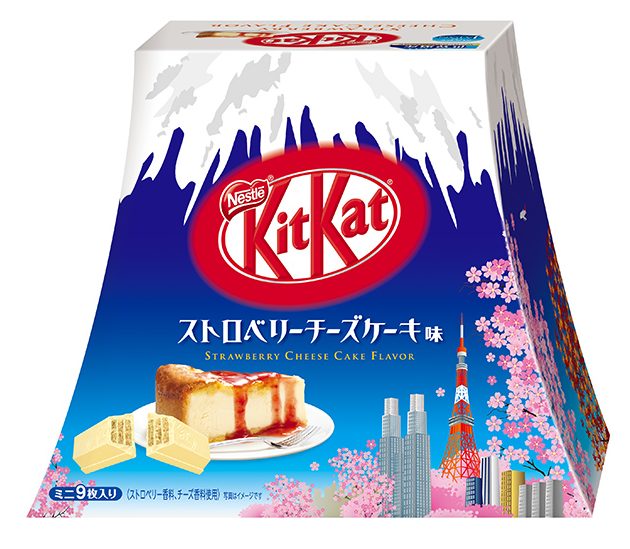 KITKAT Mt. Fuji Limited Flavor
We've done a roundup of limited-edition KITKAT from all over Japan before, so if you haven't seen it, go here: What kind of snacks do Japanese people like to eat? Japanese cakes you can buy at regular supermarkets and convenience stores
Here at Mt. Fuji, the limited edition is a strawberry cheesecake flavor in a box designed in the shape of Mt. It's a great choice for yourself or as a gift for your friends and family!
Fujikawaguchiko Souvenir ④: Fuji Seven Variations Fujiyama Senbei
Image source: https://www.senbeilab.com/view/item/000000000425?category_page_id=ct34
Fujifilm Seven Variations Fuji Mountain Senbei Senbei are Japanese pancakes. These are bite-sized pancakes in the shape of Mount Fuji, and come in seven colors and flavors, reflecting the changing landscape of the mountain in terms of time and the passing of the seasons.
胡麻マヨ (sesame mayonnaise): As the snow melts and the rocks are exposed, Mount Fuji is waiting for spring to come.
紫いも (purple potato): Mt. Fuji dissolves in the gradual change of the sunset
抹茶(Matcha/green tea): The green leaves are dancing and Mount Fuji is full of spring greenery and vitality
キラキラざらめ (Colorful): What is the color of Mount Fuji in your eyes?
白砂糖(White sugar): Snow falls from the sky, Mount Fuji is covered in silver
うこん & バーベキュー (Turmeric & BBQ): Mount Fuji and the sunshine together
唐辛子 (chili): The sacred and majestic red Mount Fuji brings good luck and good fortune
Fujikawaguchiko Souvenir ⑤: Fujiyama cookies
Image source: https://www.fujiyamacookie.jp/
Mountain Fuji Biscuits
This is a store located not far from Kawaguchiko Station and is famous for its Mt. The biscuits are made from 100% Japanese wheat flour and flavored with honey and cheese.
There are five flavors: vanilla, black tea, strawberry, matcha, and chocolate, and each flavor is divided into three types of cookies: original, with added toppings (such as hazelnuts, orange peel, berries, etc.), and with white chocolate spread on top of the cookie to imitate Mount Fuji with snow.
The price is about 140 yen for an unadorned cookie and 150 yen for a cookie with toppings or white chocolate.
(Visited 2,280 times, 3 visits today)
GetAround Japan is your number one travel guide, providing the latest information on visiting and living in Japan, with tips on what to eat, things to do, and places to stay.
Whether you're planning for a trip far in the future, or already in Japan in need of some fresh ideas, our archive of posts will help you find the best way to fill your time and get the most out of your travel experience.
We provide you updates on serious policies that affect visitors and foreign residents while also keeping things light and fun with articles on quirky trends and pop culture.
How do we know how to provide visitors the information they need? Our affiliate company CDJapan Rental provides WIFI and Sim Card rentals to thousands of visitors to Japan every year. In other words, we are constantly in touch with and listening to the voices of our customers, and infuse our blog with the information they ask us for.
For inquiries, contact us here
Company Information
CDJapan Rental (Neowing Corporation) 1-10-15-3F Nihonbashi Horidome Chuo, Tokyo 103-0012, Japan