The most common way to travel to Japan on a free trip is definitely the Japanese trains. The Japanese trains are known for its punctuality, speed and convenience, and can take you directly to most tourist destinations. If you want to take the Japanese trains more conveniently, we recommend you to buy a Suica card after arriving in Japan, so that you can enter and exit the train station just by swiping the card and pass quickly, instead of calculating the fare to your destination and then buying a separate ticket.

How should I apply for a Suica card? Do I have to speak Japanese at a human counter? This article will introduce how to buy a Suica card in Japan, and also introduce some of the recommended one-day passes and passes for free travel in Japan. If you are interested, please read on!
Updated on July 31, 2023
Starting from June 8, 2023, Japan will suspend the sales of anonymous Suica and anonymous Pasmo cards, with no specified date for resumption.
Starting from August 2, 2023, both Registered Suica and Registered Pasmo will also be discontinued for sale, with no set date for resumption.
Suspension of Sales for Suica and PASMO Cards
CDJapan Rental has a great deal on pocket wifi, with a range of flexible plans starting at ¥187/day.
Japan Pocket Wifi Rental
---
Welcome Suica, the red-colored card exclusively for travelers visiting Japan, will have purchase restrictions from August 2, 2023, regarding purchase locations and quantity limits.
【Welcome Suica Purchase Locations】Station staffed by "駅たびコンシェルジュ" at Narita Airport Station, Airport Terminal 2 Station, and Haneda Airport Terminal 3 Station.
Dedicated machines for Welcome Suica at Narita Airport Station, Airport Terminal 2 Station, and Haneda Airport Terminal 2 and Terminal 3 Stations.
【Welcome Suica Purchase Restriction】Limited to 1 card per person.
Travelers can choose to purchase ICOCA within the Kansai region or opt for Welcome Suica.
Train Ticket in Japan
First of all, let's talk about the train tickets in Japan. Japanese train tickets are based on the train company + the distance between stations. If you don't have any Japanese transportation card or pass, then you need to buy a single journey ticket. First, determine the fare according to the route map available at each station, and then buy it from the machine.
For example, if you want to take a train from Ueno to Akihabara, then consider taking the JR Yamanote Line, and let's use the JR East machine as an example.
Below is a map of fares between stations taken at JR Ueno Station.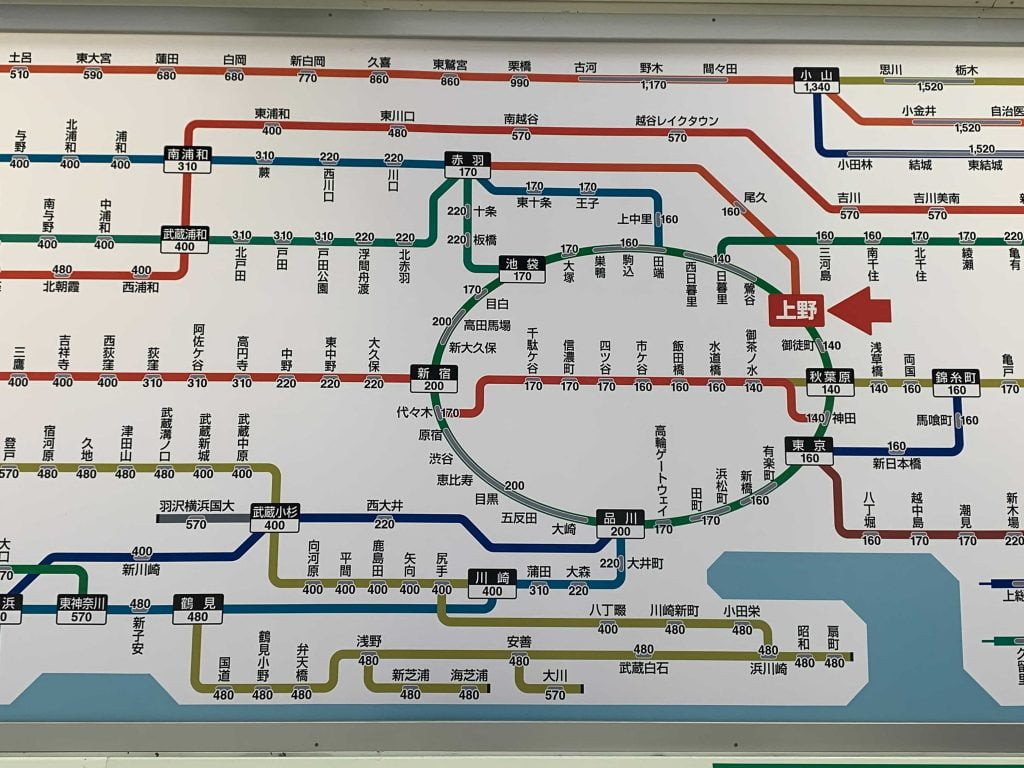 On this map, there is a number next to each station, which means the fare from the current station (the red square) to a particular station. As you can see, the fare from Ueno to Akihabara, which is two stations away, is 140 yen.
By the way, the route map of each station only shows the route and fare of the company. For example, JR stations only show JR stations and fares, but not Tokyo Metro or Toei Subway stations and fares. If you need to go from Ueno to Nijubashi-mae Station (Tokyo Metro Chiyoda Line) where the Imperial Palace is located, you can take the JR Yamanote Line to Nishi-Higurashi and transfer to the Chiyoda Line (there are other faster ways, this is just an example.) However, the fare for the Chiyoda line from Nishihigurashi to Nijubashi-mae is not shown on the JR map.
The one on the left is the machine used to purchase tickets.
Select fare according to destination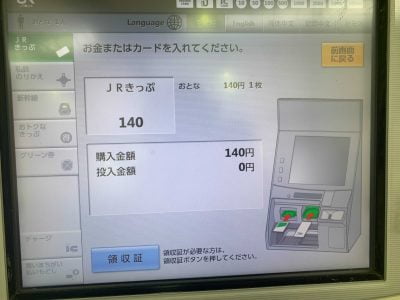 After the fare screen is displayed, put in cash
Machine spits out tickets and change/p>
A ticket for 220 yen
What is Suica card?
With the Suica card, fares are automatically calculated at one single touch, so you no longer have to check the fare and buy a ticket every time, or wait in line to buy a ticket. Isn't it much more convenient?
The Suica Card is an abbreviation of the Super Urban Intelligent Card, which can be used for transportation and shopping. su-i-ca is pronounced like the Japanese word for watermelon (スイカ, Su-i-ka), and is therefore also called the Watermelon Card.
Adult
Childen
Suica
1,000 yen
1,000 yen
2,000 yen
2,000 yen
3,000 yen
3,000 yen
4,000 yen
4,000 yen
5,000 yen
5,000 yen
10,000 yen
10,000 yen
Please note that the purchase price includes a 500-yen deposit. If you pay 1,000 yen for a watermelon card, 500 yen of that amount will automatically become a deposit, and you will be able to use 500 yen of the stored value. If you pay 2,000 yen, you can use 1,500 yen, and if you pay 10,000 yen, you can use 9,500 yen.
How to apply for Suica card
Buy Suica card at the counter
Some of the larger stations have a green window (Middori-no-Madoguchi) where you can tell STAFF that you need a Suica card.
Buy Suica cards on machines
If you choose to purchase a Suica card using a ticket machine, you will find many machines at the bottom of this fare map. Find such machines as.
You can then follow the steps below to purchase a Suica card.
Click on the fourth item "Suicaの購入(Suica purchase)"
Click on the second item"No-Name Suica Card(無記名Suicaカード)"
Choose the amount of charge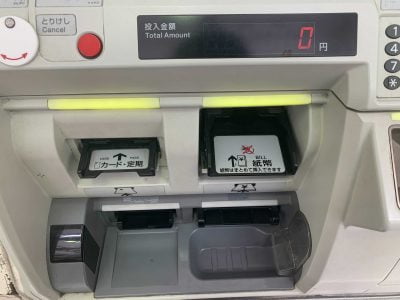 Suica card will be spit out here after processing
Of course, you can also choose English, which are similar to the Japanese buttons and are easier to understand.
Application of the Suica card
Suica cards can be used in most areas throughout Japan.
You can use the Suica card in the areas shown in the picture above, and not only on trains, but also on certain buses without having to buy a ticket!

(Visited 3,624 times, 8 visits today)
GetAround Japan is your number one travel guide, providing the latest information on visiting and living in Japan, with tips on what to eat, things to do, and places to stay.
Whether you're planning for a trip far in the future, or already in Japan in need of some fresh ideas, our archive of posts will help you find the best way to fill your time and get the most out of your travel experience.
We provide you updates on serious policies that affect visitors and foreign residents while also keeping things light and fun with articles on quirky trends and pop culture.
How do we know how to provide visitors the information they need? Our affiliate company CDJapan Rental provides WIFI and Sim Card rentals to thousands of visitors to Japan every year. In other words, we are constantly in touch with and listening to the voices of our customers, and infuse our blog with the information they ask us for.
For inquiries, contact us here
Company Information
CDJapan Rental (Neowing Corporation) 1-10-15-3F Nihonbashi Horidome Chuo, Tokyo 103-0012, Japan