ICOCA is a transportation IC card issued by JR West in Japan, equivalent to the Suica card in the western region of Japan. The name "ICOCA" is an abbreviation of "IC Operating CArd," but it also sounds similar to the Kansai dialect phrase "行こか!(Ikoka!)" meaning "Let's go!" The card design is similar to Suica, featuring a light blue color scheme, with the penguin character replaced by a creature called "カモノハシのイコちゃん (Kamonohashi no Iko-chan)," which is a platypus.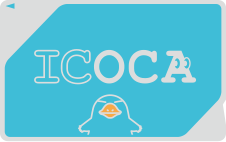 Similar to Suica, ICOCA can be used for fare payment when riding trains or subways and can also be used for shopping at stores that accept transportation IC cards. When the balance on the card is depleted, it can be recharged using the recharge machines available at stations.
Can I use ICOCA in Tokyo?
The answer is yes!
CDJapan Rental has a great deal on pocket wifi, with a range of flexible plans starting at ¥187/day.
Japan Pocket Wifi Rental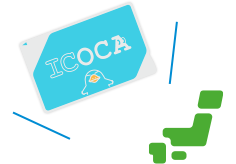 Just like you can conveniently use Suica to ride subways and trains in cities such as Osaka, Kyoto, and Kobe in the Kansai region, you can also use ICOCA to hop on transportation modes in Tokyo, Yokohama, and other cities in the Kanto region. Thanks to Japan's "Kōtsūkei IC Kādo Zenkoku Sōgo Riyo Sābisu" (Nationwide Interoperability of Transportation IC Cards), you can even use ICOCA for transportation in Kyushu, Shikoku, and Hokkaido.
As of June 2023, Suica card sales have been temporarily suspended due to chip shortages. However, there is no news of a temporary suspension of ICOCA card sales in the Kansai region.
Railways in the Greater Tokyo Area Where ICOCA Card Can Be Used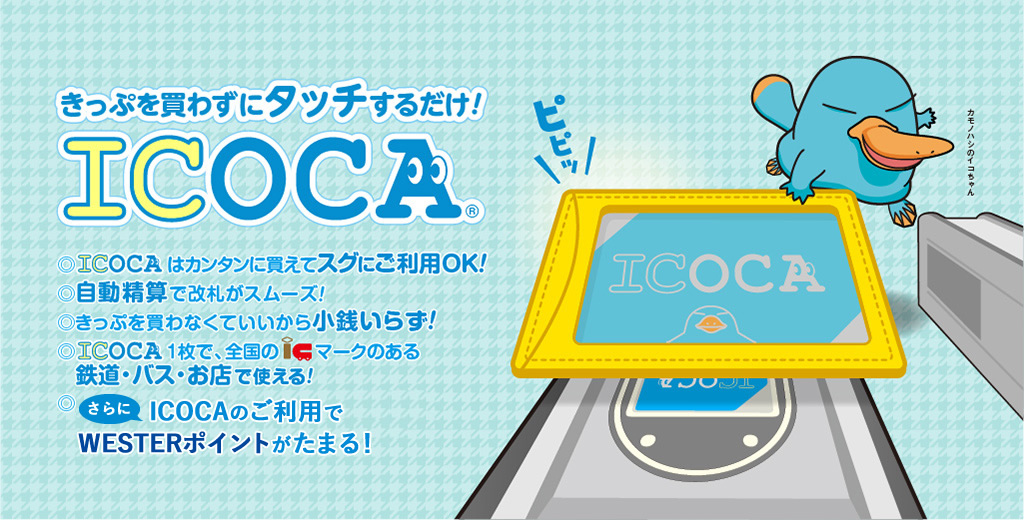 JR East (except for some stations on the Kururi Line and Karasuyama Line)
JR Tokai (limited to the Gotemba Line)
*However, if you board the train using ICOCA at JR East stations, you will need to purchase a separate ticket to exit at JR Tokai stations.
Major Private Railway Companies (e.g., Tobu Line, Seibu Line, Keio Line, Odakyu Line, Tokyu Line, Keikyu Line, Keisei Electric Railway, Sotetsu Line)
Tokyo Metro
Toei Subway
Toden Arakawa Line
Nippori-Toneri Liner
Tokyo Monorail
Rinkai Line
Yurikamome
Tama Monorail
Yokohama Municipal Subway
Minatomirai Line
Enoshima Electric Railway (Enoden)
Shonan Monorail
Hakone Tozan Railway
Izu Hakone Railway (limited to the Daiyūzan-sen Line)
Tsukuba Express
Saitama High-Speed Railway
Kitasō Railway
Disney Resort Line
Chichibu Railway
And many more.
ICOCA Usage Tips in Tokyo
However, there are some important things to note when using ICOCA in Tokyo and the surrounding Kanto region.
ICOCA cannot be purchased in Tokyo
If you wish to own an ICOCA card, you must visit the Kansai region.
ICOCA is primarily a transportation card for the western region of Japan, such as Osaka and Kyoto, and is issued and operated by West Japan Railway Company (JR West). Therefore, it is not possible to purchase ICOCA at JR East stations in the Suica area or PASMO area.
Similarly, Suica or PASMO cards are not available for purchase at JR West stations in the ICOCA area.
ICOCA can be recharged in Tokyo
If you already have an ICOCA card, you can easily recharge it even when you are in the Tokyo area. There are specific locations where you can recharge your ICOCA card, including JR East stations, certain subway stations, and convenience stores. These recharge machines are usually located near the ticket counters at stations and have user interfaces available in multiple languages, making it convenient for international travelers. Simply follow the instructions on the screen, place your ICOCA card on the designated area, select the recharge amount, and proceed with the payment. The recharge amount options are flexible, allowing you to adjust according to your needs, ranging from a few hundred to several thousand yen.
ICOCA cannot be used to purchase Green Car tickets in Tokyo
ICOCA can be easily used for riding the subway, buses, and regular train cars in Tokyo and its surrounding areas, allowing you to explore major attractions and the city center. However, there is a limitation regarding the use of ICOCA for purchasing Green Car tickets when traveling on JR East trains in Tokyo. The Green Car refers to the premium class cars offered by JR East, providing passengers with a more comfortable and high-quality travel experience. However, these tickets can only be purchased through specific methods, and ICOCA is not included.
If you wish to experience the Green Car service, you can choose to purchase special tickets for the Green Car at JR stations in Tokyo. These special tickets are usually available at ticket counters or designated automated ticket machines.
ICOCA cannot be used to create commuter passes in Tokyo and the surrounding areas
ICOCA commuter passes can only be created in the ICOCA area, such as JR West. It is not possible to create ICOCA commuter passes in the Suica area or PASMO area of JR East. This is because ICOCA and Suica/PASMO belong to different transportation card systems, and commuter passes used in different regions are also different.
Similarly, in the ICOCA area, it is not possible to create commuter passes for the Suica area or PASMO area at the respective stations.
ICOCA cannot be used on certain trains in Tokyo and the surrounding areas
When planning your travel in Tokyo and its surrounding areas, be aware that certain trains do not accept ICOCA as a payment method. One example is the Chiba Monorail.
The Chiba Monorail is a light rail transit system in Chiba Prefecture, connecting various areas within Chiba City and providing convenient transportation options for local residents and visitors. However, ICOCA cannot be used as a payment method when riding the Chiba Monorail. Please be prepared with cash or use other applicable transportation cards.
ICOCA cannot be used on Shinkansen trains
Similar to Suica, ICOCA, as a transportation IC card, cannot be used exclusively for riding the Shinkansen. In addition to not being able to use ICOCA on JR East Shinkansen trains, ICOCA is also not accepted on the Tokaido Shinkansen in the JR Tokai region, including the Sanyo Shinkansen within the JR West region to which ICOCA belongs.
If you wish to use your IC card for Shinkansen travel, you will need to make advance arrangements for other services, such as JR East's "Touch and Go! Shinkansen" or "Shinkansen e-Ticket," or the "SmartEX Service" jointly offered by JR Tokai, JR West, and JR Kyushu.
---
All the pictures are from:ICOCA:JRおでかけネット
(Visited 5,712 times, 61 visits today)
GetAround Japan is your number one travel guide, providing the latest information on visiting and living in Japan, with tips on what to eat, things to do, and places to stay.
Whether you're planning for a trip far in the future, or already in Japan in need of some fresh ideas, our archive of posts will help you find the best way to fill your time and get the most out of your travel experience.
We provide you updates on serious policies that affect visitors and foreign residents while also keeping things light and fun with articles on quirky trends and pop culture.
How do we know how to provide visitors the information they need? Our affiliate company CDJapan Rental provides WIFI and Sim Card rentals to thousands of visitors to Japan every year. In other words, we are constantly in touch with and listening to the voices of our customers, and infuse our blog with the information they ask us for.
For inquiries, contact us here
Company Information
CDJapan Rental (Neowing Corporation) 1-10-15-3F Nihonbashi Horidome Chuo, Tokyo 103-0012, Japan