Japan's leading mobile payment company, PayPay, announced on July 20th that it will develop a new feature that allows offline payments without the need for an internet connection. This marks the first appearance of such a feature in Japan's mobile payment industry.
PayPay Offline Payment Feature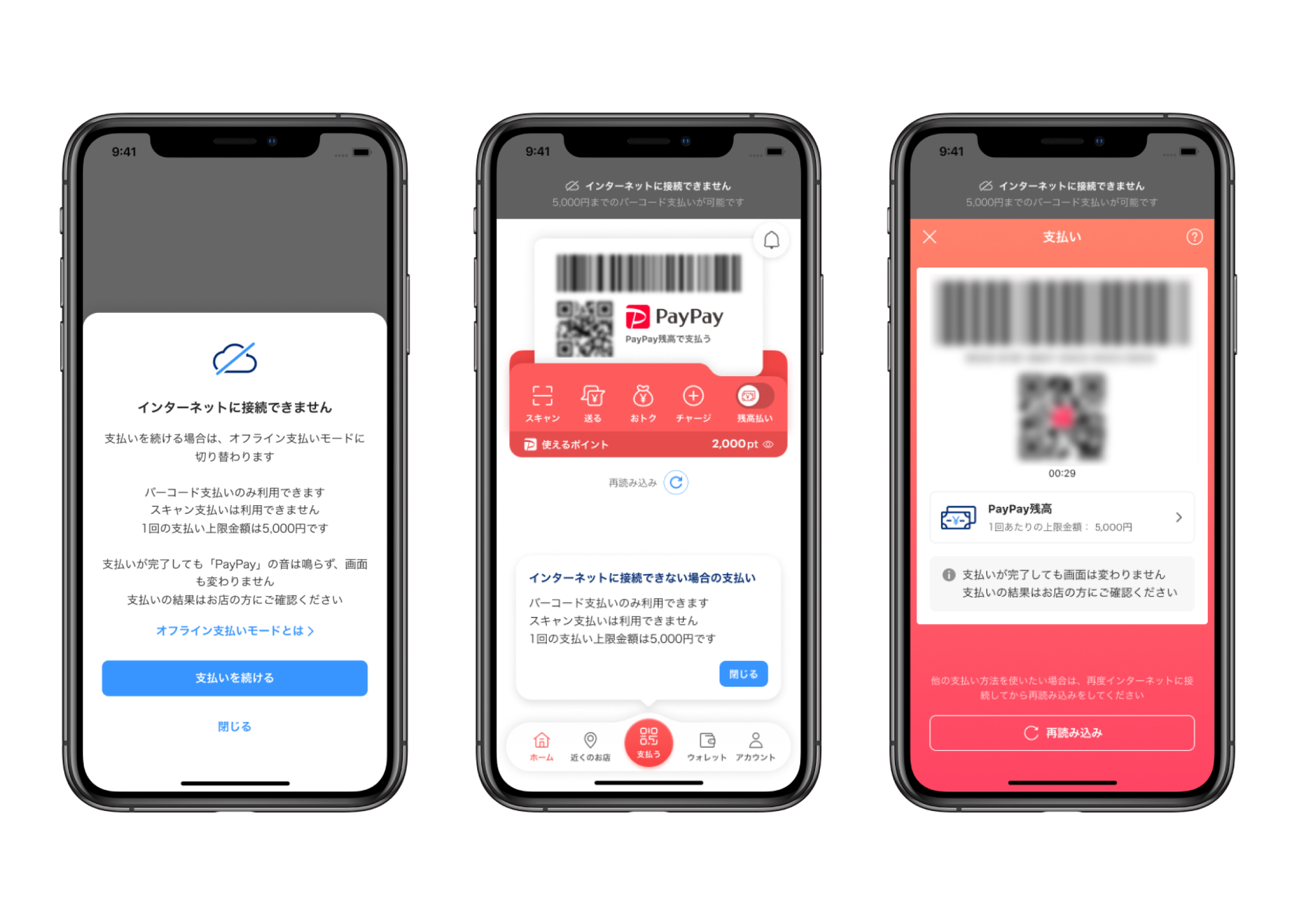 Image Source: PayPay Official Website
According to PayPay's official website, this new feature enables users to make purchases and payments without an internet connection, making it ideal for scenarios with unstable signals, underground areas with no connectivity, crowded festivals, and event venues with limited communication. Particularly in times of large-scale communication disruptions, this offline payment function serves as an emergency measure for essential purchases.
When using PayPay for payment, if the payment code takes more than 3 seconds to display, the system will automatically switch to the "Offline" payment mode. In this mode, users can choose to pay using either their "PayPay balance" or "PayPay deferred payment."
CDJapan Rental has a great deal on pocket wifi, with a range of flexible plans starting at ¥187/day.
Japan Pocket Wifi Rental
Limitations of PayPay Offline Payment Feature
However, there are some limitations to the offline payment feature:
1. After completing the payment, the mobile page will not automatically switch to the "Payment Complete" screen, and there will be no payment completion notification sound. Users will only be able to see the payment status from notification pop-ups and payment history once their internet connection is restored.
2. There are certain limits on the payment amount for offline payments. If the current PayPay balance exceeds 5,000 JPY, each offline payment can be up to 5,000 JPY. If the balance is less than 5,000 JPY, the payment amount cannot exceed the existing PayPay balance. Additionally, within 24 hours, the total amount of offline payments cannot exceed 10,000 JPY, and within 30 days, it cannot exceed 50,000 JPY.
3. The number of offline payments is also limited. Within 24 hours, users can make a maximum of 2 offline payments, and within 30 days, they can make a maximum of 10 offline payments.
4. Offline payments can only be initiated by stores through PayPay's "Store Scan" method, where the store scans the customer's payment code. Customers cannot initiate offline payments by scanning the store's payment code. Therefore, if a store is unable to perform the scan, the PayPay offline payment feature cannot be used.
Currently, PayPay has not implemented the offline payment feature for all users and plans to include it in the latest PayPay software release in the future.
[This article is based on information as of July 24, 2023]
(Visited 60 times, 1 visits today)
GetAround Japan is your number one travel guide, providing the latest information on visiting and living in Japan, with tips on what to eat, things to do, and places to stay.
Whether you're planning for a trip far in the future, or already in Japan in need of some fresh ideas, our archive of posts will help you find the best way to fill your time and get the most out of your travel experience.
We provide you updates on serious policies that affect visitors and foreign residents while also keeping things light and fun with articles on quirky trends and pop culture.
How do we know how to provide visitors the information they need? Our affiliate company CDJapan Rental provides WIFI and Sim Card rentals to thousands of visitors to Japan every year. In other words, we are constantly in touch with and listening to the voices of our customers, and infuse our blog with the information they ask us for.
For inquiries, contact us here
Company Information
CDJapan Rental (Neowing Corporation) 1-10-15-3F Nihonbashi Horidome Chuo, Tokyo 103-0012, Japan