Not exactly Christmas decorations, not quite a light show, the end of each year means Illumination season in Japan. In popular neighborhoods, parks and event centers, carefully crafted and designed light tapestries adorn walkways, buildings fronts and hang from ceilings. We have gathered a handful of recommended Illumination spots in Tokyo to provide a taste of the festivities this year! Stop by after work, or on the weekends with family, friends, and loved ones to enjoy the lights together.  
Marunouchi Illuminations
November 16th 2023~February 18th 2024
16:00~23:00
Simple and elegant, the Marunouchi Illuminations after nightfall are one of the more low-key creations in the city. The tall trees lining the streets of Marunouchi have been laced with simple warm white twinkle lights. Have dinner in any of the large department stores in the area and enjoy a stroll up and down the stone-laid roads, which are closed to cars during peak dinner times. After work hours, you might even see couples using the well-lit spot as a backdrop for their engagement photos!
Official Site:
https://www.marunouchi.com/event/detail/37086/
Nakameguro: Minna No Illumination
From November 10th,2023 to January 8th 2024, 17:00~22:00
Perhaps the most popular spot for viewing cherry blossoms in the spring, Nakameguro is also home to a popular Illuminations this winter. Minna no Illumination, which translates roughly to The Illumination For Everyone, pays tribute to the cherry blossoms of spring, with the trees lining the Meguro river draped in pink lights.
Official Sites:
http://www.minna-no-illumi.com/
Roppongi Mid-Town 2023
November 16th~December 25th 2023, 17:00~23:00
Roppongi embodies the word oshare (おしゃれ) meaning trendy, fashionable, chic. Accordingly, the illuminations that appear in Roppongi are always on point with their themes and color schemes, often adding some clever twist to their construction.
At Midtown Garden, golden trees span an impressive 80 meters, creating a unique landscape with the sounds of nature and colorful illuminations accompanied by smoke. Until November 30th, visitors can experience an immersive presentation by strolling through the trees, witnessing a scenery exclusive to this location.
Official Site:
http://www.tokyo-midtown.com/jp/xmas/
Shibuya Ao no Dokutsu (The Blue Cave Shibuya)
Photo Credit: http://shibuya-aonodokutsu.jp/
December 1st~December 25th 17:00~22:00
In what is already turning out to be one of the most popular Illuminations of the year, The Blue Cave in Shibuya is an other-wordly walk between the Shibuya and Yoyogi Park area. With a chrystal blue lightscape that runs over a reflective mirror of a river, the Illumination is nearly as enveloping as the Kusama Yayoi's mirror rooms and is already appearing all over social media. 
This year, a new addition to the festivities is the Christmas market, known as "Ao no Doukutsu Xmas Market," opening daily from 15:00 until 21:00. Beyond enjoying the illuminations, visitors can indulge in delicious cuisine and explore various goods available for purchase. If you're planning to be in Japan in December, this is a must-visit destination!
Photo Credit: http://shibuya-aonodokutsu.jp/
Official Site:
http://shibuya-aonodokutsu.jp/
Shinjuku Terrace City Illumination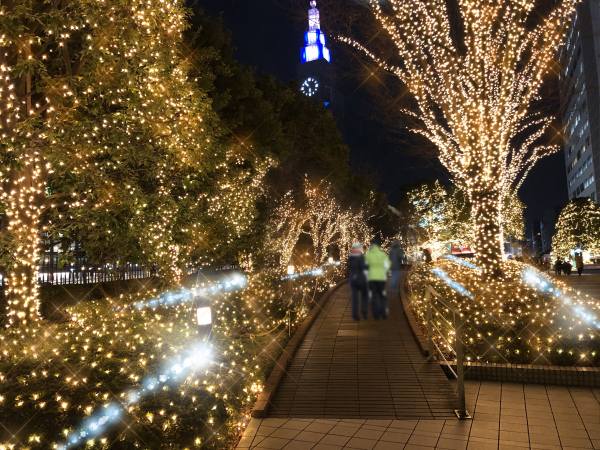 Photo Credit: https://www.southernterrace.jp/news/2425
November 17th 2023~February 14th 2024   17:00~24:00
The perfect way to end an evening of shopping the malls dotting Shinjuku's West Exit is by taking a stroll to see the Shinjuku Terrace City Illumination. The lights are spread out across the My Lord and Odakyu shopping areas in addition to Mosaic Hill.
This year's theme is "Golden Trip: The Tale of a Bird." The story revolves around a bird symbolizing hope and rebirth, embarking on a journey through a golden forest to deliver gifts of fruits. The immersive experience draws visitors into a world aglow with gold, featuring a dynamic presentation using the Twinkly Lighting System.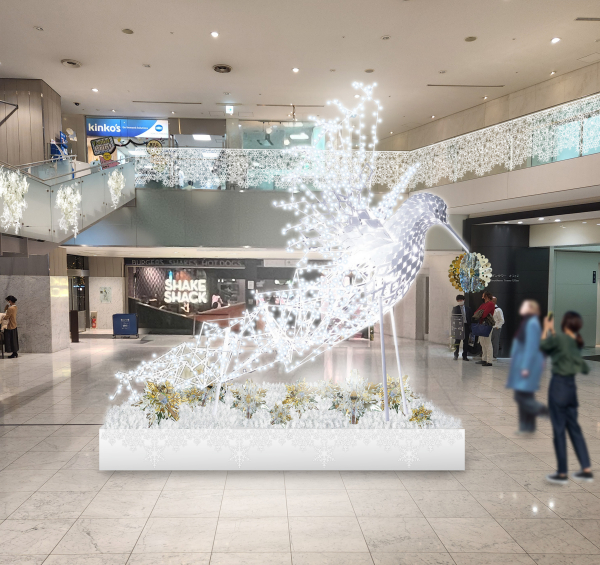 Photo Credit: https://www.southernterrace.jp/news/2425
Moreover, making its debut in Japan this year is a large wing-shaped illumination at Shinjuku Southern Terrace Plaza. Visitors can enjoy interactive illuminations where the lights synchronize with hand movements, providing a captivating and participatory experience.
Official Site:
https://www.southernterrace.jp/news/2425
Tell us about your favorite Illuminations around Japan in the comments!
(Visited 354 times, 1 visits today)
GetAround Japan is your number one travel guide, providing the latest information on visiting and living in Japan, with tips on what to eat, things to do, and places to stay.

Whether you're planning for a trip far in the future, or already in Japan in need of some fresh ideas, our archive of posts will help you find the best way to fill your time and get the most out of your travel experience.
We provide you updates on serious policies that affect visitors and foreign residents while also keeping things light and fun with articles on quirky trends and pop culture.

How do we know how to provide visitors the information they need? Our affiliate company CDJapan Rental provides WIFI and Sim Card rentals to thousands of visitors to Japan every year. In other words, we are constantly in touch with and listening to the voices of our customers, and infuse our blog with the information they ask us for.

For inquiries, contact us here

=Company Information=
CDJapan Rental (Neowing Corporation) 1-10-15-3F Nihonbashi Horidome Chuo, Tokyo 103-0012, Japan