Are you planning a free trip to Japan recently? If you travel a lot on the JR railroad, a JR Pass can help you reduce the cost of transportation. If your destination is the Kansai region, centered around Osaka, Kyoto, Kobe and Nara, then we highly recommend you consider this JR West Pass – Kansai Area Rail Pass.
Available Area
Since the JR West Pass includes many different types of passes, and their coverage, price and usage may vary, we will only introduce the Kansai Area Rail Pass.
This pass covers Osaka (including Kansai International Airport and Osaka USJ), Kyoto, Nara, Wakayama, Kobe, and Himeji, which are the main cities you will visit on your Kansai tour. If this is your first trip to Kansai, or if you don't plan to go on a super in-depth tour of the small cities and villages that are less visited in Kansai, then this pass will cover almost all of your travel needs (provided you only take the JR line).
The map below shows the area covered by this Kansai Area Rail Pass.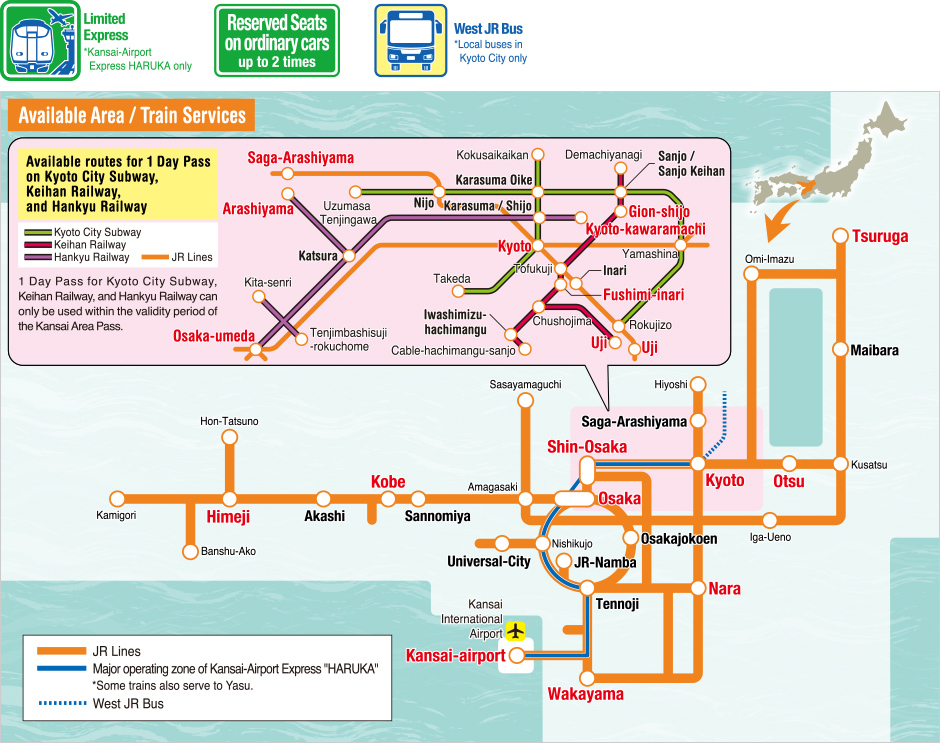 Kansai Area Pass is valid for unlimited travel in the valid area on the map.
Valid trains are below;
– Reserved seats on Kansai-airport Express HARUKA
– Special Rapid Services, Rapid Services, and Local trains on JR-WEST Conventional lines
– The pass is only valid on WEST JAPAN JR BUS route buses within the valid area. The pass cannot be used on expressway buses.
* These trains below cannot be used
– Both Reserved and Non-reserved seats on Express Trains excluding Kansai-airport Express HARUKA
– The Special Rapid "A Seat" paid seating Service
– Bullet Train "SHINKANSEN"
How to use
You can use the automatic ticket cutting machine to insert the pass when passing through the ticket gate, and then retrieve it after passing through the ticket gate.
In addition, three redemption coupons are included with the purchase and receipt of a JR West Pass – Kansai Area Rail Pass.
Kyoto City Subway Exchange Ticket:Redeemable for one Kyoto City Subway One-Day Pass
eihan Train Exchange Coupon: One one-day Keihan Train ticket
Hankyu Railway Exchange Ticket:Redeemable for a one-day Hankyu Railway Kyoto Line ticket
For more information, please refer to here。
Price
The price is the same whether purchased overseas, through the JR-WEST ONLINE TRAIN RESERVATION, or at the JR-West Station Ticket Office for Kansai Area Rail Passes.
Children between the ages of 6 and 11 years old need a child's ticket, while adults over 12 years old need an adult ticket. Each ticket (adult or child) allows two children between the ages of 1 and 5, while infants under the age of 1 are free of charge.
| Validity period | Price |
| --- | --- |
| 1-day | Adult 2,400YEN / Child 1,200YEN |
| 2-day | Adult 4,600YEN / Child 2,300YEN |
| 3-day | Adult 5,600YEN / Child 2,800YEN |
| 4-day | Adult 6,800YEN / Child 3,400YEN |
Purchasing a rail pass
Purchasing Exchange Order through a Travel Agency outside Japan
Purchase an exchange ticket at a designated travel agency outside of Japan before arriving in Japan(MCO: Miscellaneous Charges Order or E-TICKET)。
When you arrive in Japan, go to the designated location and present both your MCO/E-TICKET and passport for exchange.
Reserving via JR-WEST ONLINE TRAIN RESERVATION
Note: Online reservations can only be made for JR West Pass Kansai Area Rail Passes that are valid for one month and must be paid online with a credit card.
For example, if today is January 13, you can reserve tickets for February 13 at most, but not for February 14.
JR-WEST ONLINE TRAIN RESERVATION(for kansai-areapass)
When you arrive in Japan, go to a ticket machine or the green window to exchange (you will need to prepare a credit card and passport for payment, and sometimes you will need to provide a reservation number and an identification number, etc.). Click here to see what you need to prepare.
Purchasing at JR-WEST Ticket Office
You must fill out an application form and present your passport to the collection station to make your purchase. Purchases can only be made with JPY cash or by credit card.
Please refer to the stations marked with ◎ and ● in Exchange Order Exchange Locations and Points of Sale in Japan for the JR-WEST RAIL PASS and Other Passes for purchase locations.
Availability and Use
A rail pass is available and usable all year around.
A rail pass is purchasable up to 1 month in advance of the first day of use.
* Reservations are accepted via JR-WEST ONLINE TRAIN RESERVATION up to one month before boarding (starting at 10:00 am (JST) on same day of preceding month).
A rail pass is valid for consecutive days.
The validity of a rail pass starts from 12 a.m.
Eligibility
A rail pass user must be holding a passport issued by a foreign government.
※This service is not available to customers of Japanese nationality, including customers who have permanent residency in a foreign country.
A rail pass user must be entering in Japan as a "短期滞在 (Temporary Visitor) ".
※Foreigners who have a Japanese long term resident visa (resident card) are also not allowed to purchase.
 Individual customers are not allowed to purchase or exchange more than one of the same ticket for the same use period.
Reference&Image Source:JR West Official Website
(Visited 502 times, 1 visits today)
GetAround Japan is your number one travel guide, providing the latest information on visiting and living in Japan, with tips on what to eat, things to do, and places to stay.

Whether you're planning for a trip far in the future, or already in Japan in need of some fresh ideas, our archive of posts will help you find the best way to fill your time and get the most out of your travel experience.
We provide you updates on serious policies that affect visitors and foreign residents while also keeping things light and fun with articles on quirky trends and pop culture.

How do we know how to provide visitors the information they need? Our affiliate company CDJapan Rental provides WIFI and Sim Card rentals to thousands of visitors to Japan every year. In other words, we are constantly in touch with and listening to the voices of our customers, and infuse our blog with the information they ask us for.

For inquiries, contact us here

=Company Information=
CDJapan Rental (Neowing Corporation) 1-10-15-3F Nihonbashi Horidome Chuo, Tokyo 103-0012, Japan