When you plan to visit Tokyo, Narita Airport is often your first stop. As one of Japan's busiest international airports, Narita Airport serves as the starting point for many travelers embarking on their journey in Japan. However, for first-time visitors to the city, transportation from Narita Airport to the city center can be a bit confusing. But don't worry! We have prepared a comprehensive Narita Airport transportation guide to help you reach your destination with ease. We will introduce you to various transportation options, fare information, and travel tips. Let's embark on this exciting journey together and explore Tokyo, a vibrant and captivating city!
Introduction to Narita Airport Facilities
Narita Airport is one of the most important international airports in the Tokyo area of Japan, consisting of three main terminals: Terminal 1, Terminal 2, and Terminal 3.
Terminal 1, the first terminal to be built, primarily handles international and domestic flights. It features check-in counters and boarding gates for multiple airlines, along with various shopping, dining, and convenience facilities, including banks, currency exchange services, and a tourist information center.
CDJapan Rental has a great deal on pocket wifi, with a range of flexible plans starting at ¥187/day.
Japan Pocket Wifi Rental
Terminal 2 serves as the main international terminal, offering modern facilities and comfortable rest areas. Here, you can indulge in luxurious duty-free shopping, diverse culinary options, and convenient hotel accommodations.
Terminal 3, the newest terminal, primarily serves domestic and international flights for low-cost carriers. Although smaller in scale, Terminal 3 provides affordable shopping and dining choices, as well as self-check-in and baggage storage services.
It's important to note that while Narita Airport has three terminals, Terminal 3 does not have any train stations. If your flight arrives at Terminal 3, you will need to walk (or take the complimentary shuttle bus provided by the airport) to Terminal 2 to access the train services. Therefore, the two train stations at Narita Airport are "Narita Airport" (Terminal 1) and "Kūkō Dai-Ni Biru" (Terminals 2 & 3).
Getting from Narita Airport to Tokyo and Surrounding Areas
There are various public transportation options available for traveling from Narita Airport to Tokyo and its surrounding areas. Here are several of them:
Skyliner (スカイライナー)
Access Express (アクセス特急)
Keisei Line (京成本線)
Narita Express (成田エクスプレス)
Limousine Bus
Tokyo-Narita Airport Shuttle (TYO-NRT)
Among these options, there are four train services and two bus services available.
Taking a Train from Narita Airport to Tokyo
Skyliner(スカイライナー)
Generally, the fastest and most comfortable way to travel from Narita Airport to central Tokyo is by taking the Skyliner, a high-speed train operated by Keisei Electric Railway. It takes only 36 minutes to reach Nippori Station on the Yamanote Line, and 41 minutes to reach Ueno, a major interchange and tourist hub where you can transfer to subway lines and the Shinkansen. You can also explore the Marui OIOI shopping mall or Ameya-Yokocho(AmeYoko, candy store alley) street after getting off at Ueno.
When it comes to purchasing tickets for the Skyliner, it is recommended to buy them directly from the automated ticket machines or at the staffed ticket counter.
If you have an IC card such as Suica, you can also use it for payment. However, it's important to note that the Skyliner ticket consists of two parts: the basic fare (for the train ride) and the Liner ticket (for the premium express service). IC cards can only cover the basic fare and not the premium fee, so you still need to purchase the Liner ticket separately. Additionally, when passing through the ticket gate, you need to tap your IC card and insert the Liner ticket into the ticket slot simultaneously, which may require using both hands.
Access Express(アクセス特急)

Access Express is another high-speed train departing from Narita Airport, operated by Keisei Electric Railway. It shares the same tracks with Skyliner and is known as an express train. However, unlike Skyliner, there is no additional express fee for Access Express, and you only need to pay the regular train fare. As a result, although the speed is slightly slower than Skyliner, the fare is significantly lower, approximately 1,270 yen, and it takes about one hour to reach Keisei Ueno Station. It is a suitable option for those who are not in a hurry but prefer a comfortable journey while saving on transportation costs.
Additionally, Access Express has a through-operation agreement with Keikyu Line, allowing passengers to directly travel to Haneda Airport without transferring. The total travel time is approximately one and a half hours. It is a convenient choice for travelers who need to land at Narita Airport and quickly transfer to Haneda Airport.
Please note that at Aoto Station, Access Express trains will split into two routes. One continues westward towards Nippori and Ueno, while the other heads south to Oshiage, Shinagawa, Nishimagome, and Haneda Airport. Trains departing at different times will go in different directions with different terminal stations, but they share the same platform. Therefore, it's important to pay attention to which train is arriving and make sure you board the correct one.
Below are the official website links for the Skyliner and Access Express timetables, where you can find information about different train schedules, directions, and terminal stations for various times:
Skyliner & Access Express Timetable
Keisei Line(京成本線)

The Keisei Line is another railway that connects Narita Airport to Tokyo's city center. It is also operated by Keisei Electric Railway. Similar to Skyliner and Access Express, its starting and ending points are Narita Airport and Nippori & Keisei Ueno Stations. However, the Keisei Line takes a southern turn midway, so it does not share the same tracks as Skyliner or Access Express.
The Keisei Line does not have limited express trains like Skyliner and Access Express. Although it offers rapid and express services, there is no additional express fee, and the travel time is longer compared to the aforementioned true limited express trains. It takes approximately one and a half hours to travel from Narita Airport to Ueno Station.
However, the major advantage of the Keisei Line trains is their affordability. For the same journey from Narita Airport to Keisei Ueno Station, the Skyliner costs 2,570 yen, Access Express costs 1,270 yen, while the Keisei Line only costs 1,050 yen.
Narita Express(N'EX,成田エクスプレス)
The Narita Express, abbreviated as N'EX, is a limited express train operated by JR East, a different transportation company from the ones mentioned earlier. It is also known as "成田エクスプレス" (Narita Express) in Japanese. Due to its popularity among foreign travelers, it is commonly referred to as Narita Express or simply N'EX. After departing from Narita Airport, the first station that the Narita Express typically reaches in Tokyo is Tokyo Station.
Unlike the dedicated tracks of the Skyliner, the Narita Express operates on existing JR East railway lines such as the Sobu Main Line, Yamanote Line (Yamanote Freight Line), Yokosuka Line, and Chuo Main Line. In other words, it is a specialized JR line for traveling to Narita Airport.
Furthermore, among the trains traveling from Narita Airport to Tokyo, the Narita Express is almost the only one that accepts the use of the JR Pass. The Skyliner, Access Express, and Keisei Main Line mentioned earlier are operated by Keisei Electric Railway, and therefore, the JR Pass cannot be used for these services.
Compared to other trains, the Narita Express covers a wider range and reaches more distant destinations.
After arriving at Tokyo Station, the Narita Express branches out into three different routes:
1. Tokyo to Omiya (heading north, passing through Shibuya, Shinjuku, and Ikebukuro)
2. Tokyo to Takao (heading west, passing through Shibuya, Shinjuku, Kichijoji, Mitaka, and Hachioji)
3. Tokyo to Ofuna (heading southwest, passing through Shinagawa and Yokohama)
Occasionally, there are also additional services on the Tokyo to Kawaguchiko route, which passes by Mount Fuji. Therefore, if you live in or wish to visit these areas directly from the airport, taking the Narita Express allows you to reach your desired destinations without the hassle of transfers.
However, it's worth noting that Narita Express tickets are slightly more expensive than other options:
(From N'EX Official Website https://www.jreast.co.jp/tc/nex/tickets.html)
Taking a Bus from Narita Airport to Tokyo
Limousine Bus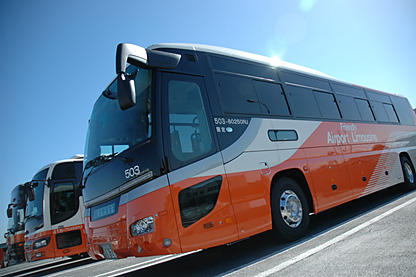 Limousine Bus is a company that provides bus services from Narita Airport to Tokyo city. With approximately 1,200 departures daily, their buses offer comfort and complete facilities, providing a convenient option for travelers. Limousine Bus covers a wide range of destinations, including major stations and hotels in the center of Tokyo, such as Tokyo Station, Shinjuku Station, and Ikebukuro Station. No matter where you want to go, Limousine Bus can meet your needs.
Tickets for Limousine Bus can be purchased at the Limousine Bus ticket counters at Narita Airport. However, it's important to note that Limousine Bus does not accept reservations.
Limousine Bus: Link to their website
"Tokyo Shuttle: TYO-NRT"
Another popular bus service is "Tokyo Shuttle: TYO-NRT." This company specializes in providing bus services from Narita Airport to Tokyo city. Their buses feature modern facilities, comfortable seating, and ample luggage space, ensuring a pleasant journey for passengers.
Unlike Limousine Bus, Tokyo Shuttle has fewer stops, primarily located around Tokyo Station and other stations in the Tokyo city area, such as Ginza Station. It can be considered as a dedicated bus service from Narita Airport to Tokyo Station.
Tickets for Tokyo Shuttle can be purchased at the Tokyo Shuttle ticket counters at Narita Airport, and currently, Tokyo Shuttle does not offer reservations.
Summary of Public Transportation
Type
Name
Direct Stations/Areas
Fare
JR Pass Validity
Train
Skyliner
Nippori, Ueno (Keisei Ueno Station)
2,570 JPY
❌ Not valid
Access Express
Nippori, Ueno (Keisei Ueno Station), Asakusa (Tokyo Skytree), Shinagawa, Haneda Airport
Varies, approximately 2,475 JPY to Ueno (Keisei Ueno Station), around 3,022 JPY to Shinagawa
❌ Not valid
Keisei Main Line
Asakusa (Tokyo Skytree), Nippori, Ueno (Keisei Ueno Station)
1,050 JPY
❌ Not valid
Narita Express/N'EX
Tokyo Station, Shinagawa, Shibuya, Shinjuku, Yokohama, etc.
3,070 JPY
⭕ Valid
Bus
Limousine Bus
Haneda Airport, Tokyo Station, Shinjuku, Ginza, Asakusa, Shibuya, Ikebukuro, etc.
Varies, approximately 3,200 JPY to Shinjuku
❌ Not valid
Tokyo Shuttle: TYO-NRT
Tokyo Station
1,300 JPY
Nighttime: 2,600 JPY
❌ Not valid
(Visited 221 times, 1 visits today)
GetAround Japan is your number one travel guide, providing the latest information on visiting and living in Japan, with tips on what to eat, things to do, and places to stay.
Whether you're planning for a trip far in the future, or already in Japan in need of some fresh ideas, our archive of posts will help you find the best way to fill your time and get the most out of your travel experience.
We provide you updates on serious policies that affect visitors and foreign residents while also keeping things light and fun with articles on quirky trends and pop culture.
How do we know how to provide visitors the information they need? Our affiliate company CDJapan Rental provides WIFI and Sim Card rentals to thousands of visitors to Japan every year. In other words, we are constantly in touch with and listening to the voices of our customers, and infuse our blog with the information they ask us for.
For inquiries, contact us here
Company Information
CDJapan Rental (Neowing Corporation) 1-10-15-3F Nihonbashi Horidome Chuo, Tokyo 103-0012, Japan