Final Fantasy XIV (FF14) will soon add Patch 6.0, Endwalker, the fourth major version update. The Japanese convenience store LAWSON has recently started a co-branding campaign with FF14. In addition to LAWSON's famous fried chicken pieces "fried chicken kun(kara-age kun)" added new flavors and new packaging related to FF14, there are also some products,that you can redeem original FF14 file folder by purchasing a certain amount of them. Through LAWSON's machine Loppi can buy small pendants. If you have joined the Ponta membership or d-point membership, you can also redeem the game's flying mounts.
We also went to LAWSON to have a look around, let's see what we got!
All pictures in this article are from the official website of LAWSON: "ファイナルファンタジーXIV" キャンペーン|ローソン研究所
Fried Chicken: The Crystal Flavor of Light and Darkness
You can't go to LAWSON without buying fried chicken! Since the original flavor has always been available, this product has been one of the popular kings of LAWSON convenience stores. A few years ago, LAWSON also launched a fried chicken with FF14, when it was "からあげクン にんにく焦がしマー油味 (fried chicken fried garlic aroma oil flavor)", and if you buy this product, there will be a special sound when paying (is the bgm in the game when riding a land bird).
CDJapan Rental has a great deal on pocket wifi, with a range of flexible plans starting at ¥187/day.
Japan Pocket Wifi Rental
This year's launch of this product, called "Kara-Agen Kern light and darkness of the crystal flavor (fried chicken gentleman light and darkness of the crystal flavor)". The official website of the product looks like this.
The large print says light and dark crystal flavor, and the small print at the bottom says "pepper and tartar sauce flavor". I went to buy really did not mean to say light and dark crystal flavor of fried chicken gentleman, so I had to say "please give me FF14 co-branded fried chicken gentleman ……" and then the shopkeeper smiled and said "is that the latest flavor, right?
It seems that the name is really shameful (laugh)
But according to the shopkeeper, this really sold very hot, on the shelves these days often sold to empty, more than the resident flavor even sold well. I went to buy also happened to be sold out, waiting for five minutes in the store to buy just out of the pot (and is a residential area inside the relatively remote LAWSON).
The real thing looks like this.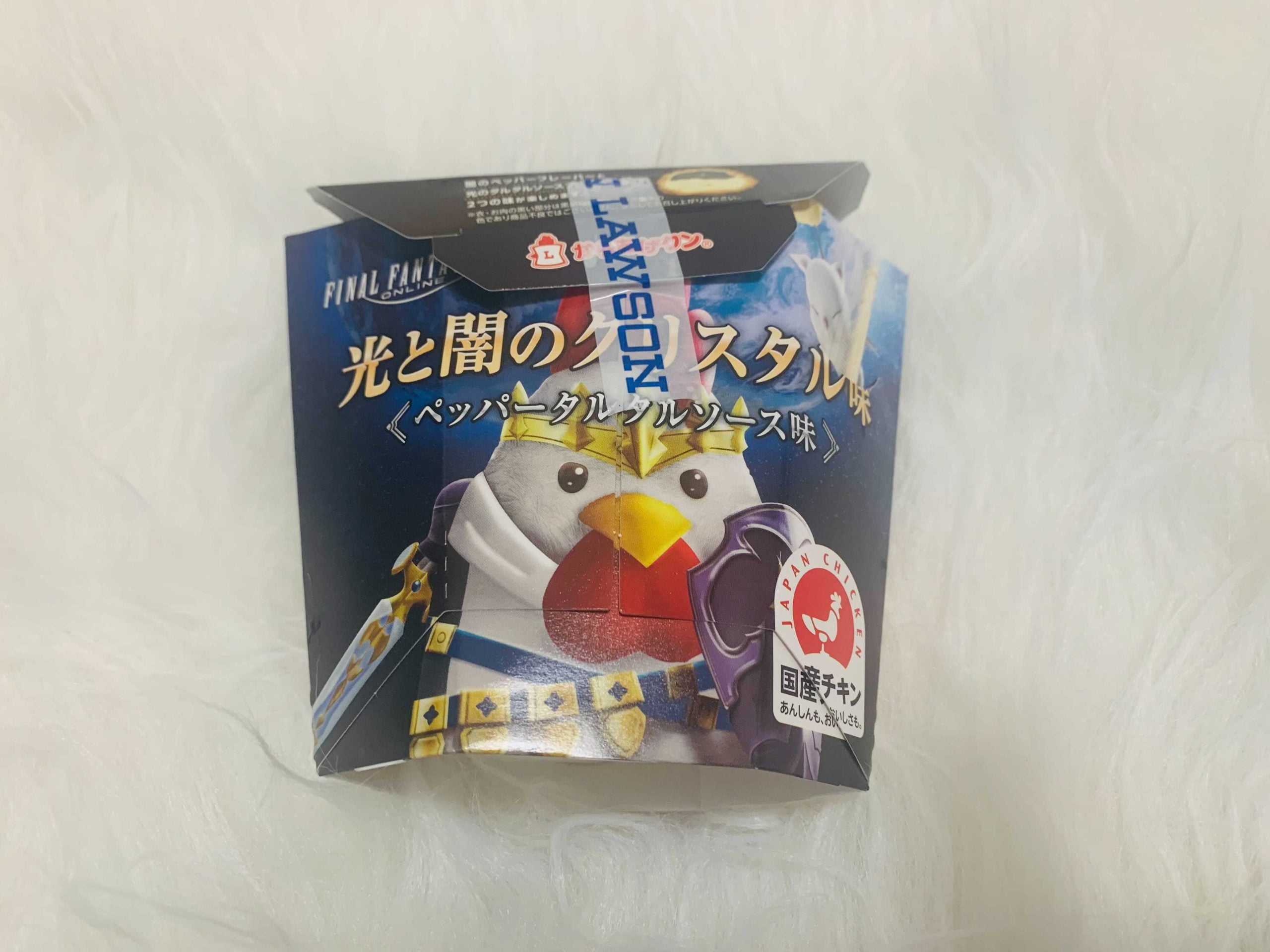 How to look a little scary!
But it tastes good (laugh). These fried chicken pieces are composed of white tartar sauce flavor and black pepper flavor (black is bamboo charcoal ingredients and black pepper, not unhealthy), corresponding to the FF14 light crystal / light warrior (white) and dark crystal / dark warrior (black), if you are in Japan, you may want to go to buy to try.
Free FF14 co-branded folder with purchase of goods
From August 31 at 7:00 a.m. until September 13, go to a LAWSON convenience store and buy designated snacks, and every third one will get an original FF14 folder of your choice as a special treat. The official website has released the picture of the folder.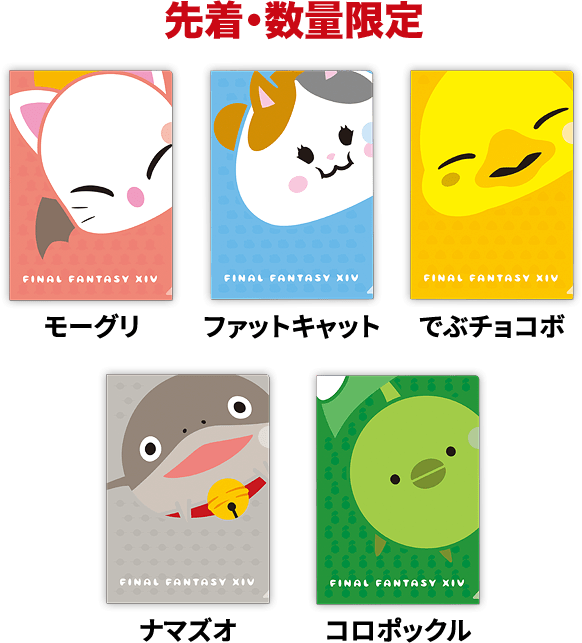 However, each LAWSON only 15 sheets, that is, three sheets of each kind. If you go late, it is likely to have been picked up by people first oh.
If you see such a mark, it is the designated goods, buy three copies, and then take the folder you want to buy the bill can be.
I bought a large pile of chocolate back, and then redeemed two folders: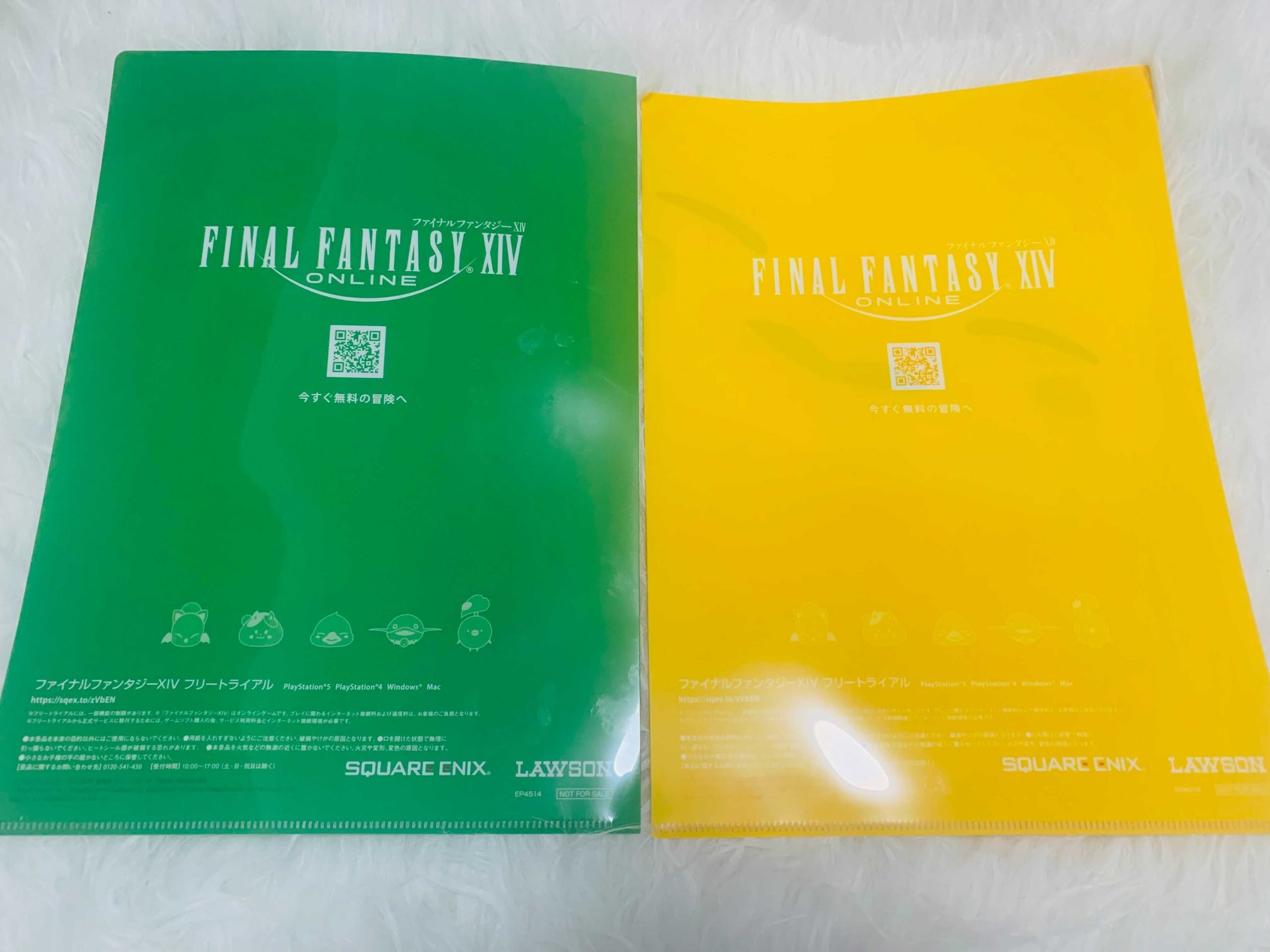 (In fact, LAWSON only has two left.)
(And then ran two other LAWSON, one has been sold out, one is still left a.)
It is still very cute ah ~.
Buy merchandise for a flight ride
If you are a member of Ponta or D-point, you will be able to redeem an FF14 in-game flight mount when you buy certain items at LAWSON.
(If you don't have a membership, you can join for free at the LAWSON convenience store.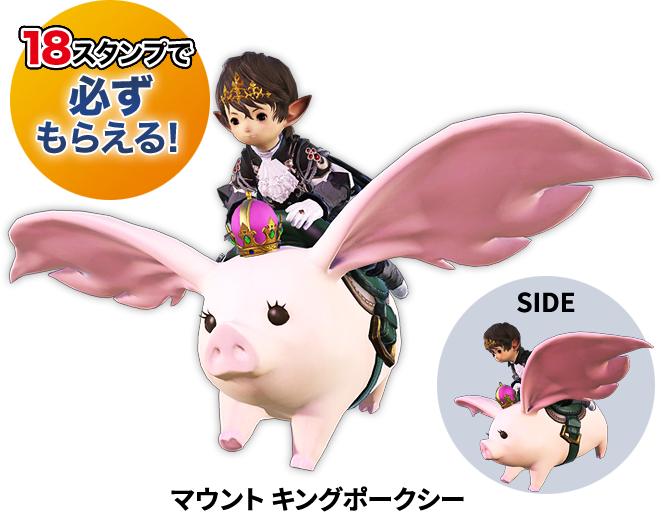 The process of redemption is [application – campaign (purchase) – redemption]. First of all, you have to apply at the special website, which will be updated in real time with the number of stamps you have accumulated while shopping. Once you have accumulated 18 points, you can redeem it within the specified time.
Application period: August 31, 2021, 0:00 – September 20, 2021, 23:59
Campaign (purchase) time: September 1, 2021, 16:00 – September 27, 2021, 23:59 (purchases made during this time period will be eligible for stamps)
Redemption time (expected): November 19, 2021, 16:00 –
Exclusive application website: Click here
If you buy products with this logo, you can accumulate stamps.
In addition, the number of points varies by product.
Read More
Japanese Convenience Store Familymart's Fami-chicken 40% Increment? All the Bento Snacks Increased in Quantity without Any Price Increase!
(Visited 615 times, 1 visits today)
GetAround Japan is your number one travel guide, providing the latest information on visiting and living in Japan, with tips on what to eat, things to do, and places to stay.
Whether you're planning for a trip far in the future, or already in Japan in need of some fresh ideas, our archive of posts will help you find the best way to fill your time and get the most out of your travel experience.
We provide you updates on serious policies that affect visitors and foreign residents while also keeping things light and fun with articles on quirky trends and pop culture.
How do we know how to provide visitors the information they need? Our affiliate company CDJapan Rental provides WIFI and Sim Card rentals to thousands of visitors to Japan every year. In other words, we are constantly in touch with and listening to the voices of our customers, and infuse our blog with the information they ask us for.
For inquiries, contact us here
Company Information
CDJapan Rental (Neowing Corporation) 1-10-15-3F Nihonbashi Horidome Chuo, Tokyo 103-0012, Japan