The Shinkansen is the pride of Japan's high-speed rail network, allowing you to rapidly traverse the entire country, experiencing Japan's diverse culture and landscapes in a short time. However, if you are visiting Japan for the first time, especially if you plan to travel by Shinkansen, purchasing tickets and boarding can be a challenging aspect.
What is Shinkansen
From Wikipedia:Shinkansen)
Currently, there are 10 Shinkansen routes officially operating in Japan (8 regular routes and 2 mini Shinkansen routes). The Hokuriku Shinkansen, Hokkaido Shinkansen, and West Kyushu Shinkansen are only partially in operation.
Name
Starting Point
End Point
Kilometers
Number of Stations
Opening Date
Operating Company
Hokkaido Shinkansen
Shin-Aomori Station
Shin-Hakodate-Hokuto Station
148.8 km
4
March 26, 2016: Shin-Aomori Station – Shin-Hakodate-Hokuto Station
Hokkaido Railway Company (JR Hokkaido)
Tohoku Shinkansen
Tokyo Station
Shin-Aomori Station
713.7 km
23
June 23, 1982: Omiya Station – Morioka Station
March 14, 1985: Ueno Station – Omiya Station
June 20, 1991: Tokyo Station – Ueno Station
December 1, 2002: Morioka Station – Hachinohe Station
December 4, 2010: Hachinohe Station – Shin-Aomori Station
East Japan Railway Company (JR East)
Joetsu Shinkansen
Omiya Station
Niigata Station
303.6 km
10
November 15, 1982
East Japan Railway Company (JR East)
Hokuriku Shinkansen
Takasaki Station
Jomo-Kogen Station
176.9 km
8
October 1, 1997: Takasaki Station – Nagano Station
March 14, 2015: Nagano Station – Jomo-Kogen Station
East Japan Railway Company (JR East)
Jomo-Kogen Station
Kanazawa Station
168.6 km
6
March 14, 2015: Jomo-Kogen Station – Kanazawa Station
West Japan Railway Company (JR West)
Akita Shinkansen (mini)
Morioka Station
Akita Station
127.3 km
6
March 22, 1997
East Japan Railway Company (JR East)
Yamagata Shinkansen (mini)
Fukushima Station
Shinjo Station
148.6 km
11
July 1, 1992: Fukushima Station – Yamagata Station
December 4, 1999: Yamagata Station – Shinjo Station
East Japan Railway Company (JR East)
Tokaido Shinkansen
Tokyo Station
Shin-Osaka Station
552.6 km
17
October 1, 1964
Central Japan Railway Company (JR Central)
Sanyo Shinkansen
Shin-Osaka Station
Hakata Station
644.0 km
19
March 15, 1972: Shin-Osaka Station – Okayama Station
March 10, 1975: Okayama Station – Hakata Station
West Japan Railway Company (JR West)
Kyushu Shinkansen
Hakata Station
Kagoshima-Chuo Station
288.9 km
12
March 13, 2004: Shin-Yatsushiro Station – Kagoshima-Chuo Station
March 12, 2011: Hakata Station – Shin-Yatsushiro Station
Kyushu Railway Company (JR Kyushu)
West Kyushu Shinkansen
Takeo-Onsen Station
Nagasaki Station
69.6 km
5
September 23, 2022: Takeo-Onsen Station – Nagasaki Station
Kyushu Railway Company (JR Kyushu)
Note: If you're traveling from Osaka to Hokkaido, you'll need to transfer in Tokyo as the Tokaido Shinkansen and Tohoku-Hokkaido Shinkansen are not directly connected.
Japanese Shinkansen Train Cars and Seats
Shinkansen tickets typically consist of a combination of a basic fare ticket and a super express ticket. The basic fare ticket covers the fare from the departure station to the destination, while the super express ticket is the service charge for riding the Shinkansen, which is faster than regular trains for the same distance. When people refer to the three types of seats on the Shinkansen, they usually mean the types of super express tickets: unreserved seat super express ticket, reserved seat super express ticket, and green car super express ticket.
Unreserved Seats
Unreserved seat tickets do not specify a seat or departure time. You can take any unreserved seat on any Shinkansen train on the same day. However, there is a possibility that you may have to stand during the entire journey.
Unreserved seats have dedicated cars, and passengers with unreserved seat tickets cannot enter reserved seat or other cars.
Reserved Seats
Reserved seat tickets specify the specific Shinkansen train, departure time, and seat. When you have a reserved seat ticket, you are guaranteed to have a seat. However, if you miss the departure time, your reserved seat will automatically become an unreserved seat, and you won't be guaranteed a seat on the next train.
Starting from the end of 2023, the "Kibo/Nozomi" service on the Tokaido and Sanyo Shinkansen lines will no longer have unreserved seats during busy periods. Busy periods include the New Year holidays (around December 28 to January 4), Golden Week (around April 29 to May 6), and the Obon Festival (around August 11 to 17), which are three major holiday seasons in Japan.
Differences Between Unreserved and Reserved Seats
The main difference is that unreserved seat tickets have no restrictions; you can ride any Shinkansen on the same day, but there may not be available seats. Reserved seat tickets, on the other hand, specify your seat, train, and departure time, ensuring you have a seat when you board.
Whether you purchase an unreserved seat super express ticket or a reserved seat super express ticket, the price of the corresponding basic fare ticket is the same. Typically, during regular periods, the price of a reserved seat super express ticket is 530 yen more than that of an unreserved seat super express ticket.
Unreserved Seats
Reserved Seats
Advantages
・Can ride any train at any time on the same day
・Price remains the same regardless of the travel date
・Guaranteed seat with a specified seat
Disadvantages
・Possibility of having to stand for the entire journey
・Missing the train forfeits the right to the reserved seat
(Can still ride in unreserved seats on subsequent trains)
Green Car (First Class)
In addition to unreserved and reserved seats, the Shinkansen offers another type of seating called the Green Car, which has a four-leaf clover symbol on the corresponding cars. Regular Shinkansen cars, where unreserved and reserved seats are located, typically have a seating arrangement of 5 seats per row: 2 on one side and 3 on the other. In contrast, Green Cars have 2 seats on each side, making each seat wider, with larger armrests, and more space between seats. All Green Cars have ergonomic seats for added comfort.
Depending on the specific train, some Shinkansen Green Cars also provide amenities like wet towels, blankets, and magazines. Some cars even have footrests, and the seats can recline further compared to regular cars.
Green Car seats come at a higher price than regular seats. When purchasing a Green Car ticket, you need to buy both the basic fare ticket and the Green Car super express ticket. For a trip from Tokyo to Osaka on the Hikari Shinkansen, a Green Car ticket costs approximately 5,000 yen more than a reserved seat ticket.
Gran Class
(Image source: Wikipedia: グランクラス)
In addition to the mentioned seating types, the E5 and H5 series trains on the Tohoku and Hokkaido Shinkansen lines and the E7 and W7 series trains on the Hokuriku and Joetsu Shinkansen lines have introduced a premium seating class known as "Gran Class" (グランクラス). The term "Gran" is derived from the French word "Grand," combined with the English word "Class," to signify a higher-class category than the Green Car.
"Gran Class" offers only 18 seats per train, arranged in a 2+1 seating configuration. This results in larger individual areas per passenger, ensuring greater comfort. The seats come with essential amenities such as slippers and blankets. Dedicated staff provides various services, and passengers can enjoy complimentary Japanese or Western-style light meals. It's like the first class of the Shinkansen.
To choose "Gran Class" seating, you'll need to purchase a basic fare ticket, a super express ticket, and an additional "Gran Class" ticket.
How to Purchase Shinkansen Tickets in Japan
Online Reservations and Ticket Purchase on JR Official Websites
You can make online reservations and purchase Shinkansen tickets through dedicated Shinkansen ticket websites on various JR company's official websites. When you purchase tickets online, you might sometimes find exclusive discounts on Shinkansen tickets.
Here are the websites for JR companies:
Purchase Tickets at JR Stations
Purchase at JR Station Counters
The easiest way to buy Shinkansen tickets is to purchase them at the manned counters within the train stations.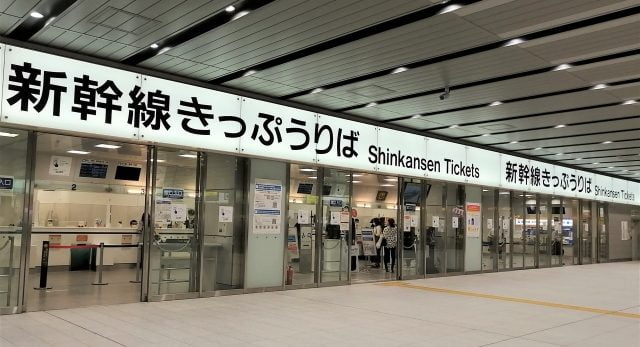 You can look for "きっぷうりば" (ticket counter) or "みどりの窓口" (green window) at larger JR stations. Explain your destination and travel date to the staff, and they will recommend suitable train options. Even if you don't speak Japanese fluently, you can communicate by pointing to the word "新幹線" (Shinkansen) and gesturing towards your destination. Some stations have staff who can speak foreign languages.
When purchasing tickets at the manned counters, you can pay with Japanese yen in cash or credit cards. If you're new to buying Shinkansen tickets, not familiar with online reservations or automatic ticket machines, or unsure about the specific ticketing process for Shinkansen, it's recommended to use the manned counters. This way, you'll encounter fewer difficulties.
Purchase at JR Station Ticket Vending Machines
At major JR stations, you can find dedicated ticket vending machines for purchasing Shinkansen tickets. These machines are usually located near the counters or alongside ticket machines for regular train services.
Tickets and Shinkansen Special Tickets
A "乗車券" (Joshaken, boarding ticket) covers the basic fare, while a "新幹線特急券" (Shinkansen tokkyu ken/Shinkansen special ticket) is an additional charge for riding the Shinkansen. In other words, when taking the Shinkansen, you need to pay both the "fare" and the "Shinkansen special fee."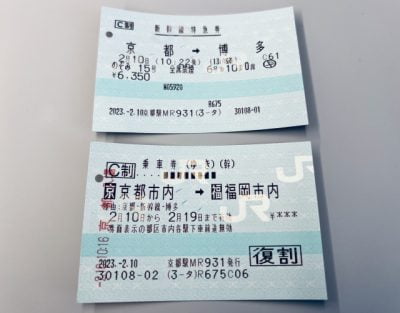 Just like riding regular trains, when you ride the Shinkansen, you pay a "basic fare" based on the distance you travel. The "basic fare" is the same concept for Shinkansen travel.
What sets the Shinkansen apart from regular trains is its significantly higher speed and additional onboard services. To cover these extras, you need to pay an additional fee called the "Shinkansen special fee."
These two fees are paid using two separate tickets: the "乗車券" covers the basic fare, while the "新幹線特急券" covers the Shinkansen special fee. You can think of it as:
乗車券 = Basic Fare
特急券 = Fee for High-Speed and Extra Services on the Shinkansen
Inside the Shinkansen, tickets are checked. If it's found that a passenger does not have either the "乗車券" or the "新幹線特急券," they may need to purchase one on the train.
Sometimes, both the "乗車券" and "新幹線特急券" are combined on a single ticket. At the top of the ticket, you will see the words "乗車券・新幹線XX席特急券." In such cases, a single ticket covers your journey.
New Luggage Rules for the Tokaido, Sanyo, Kyushu, and West Kyushu Shinkansen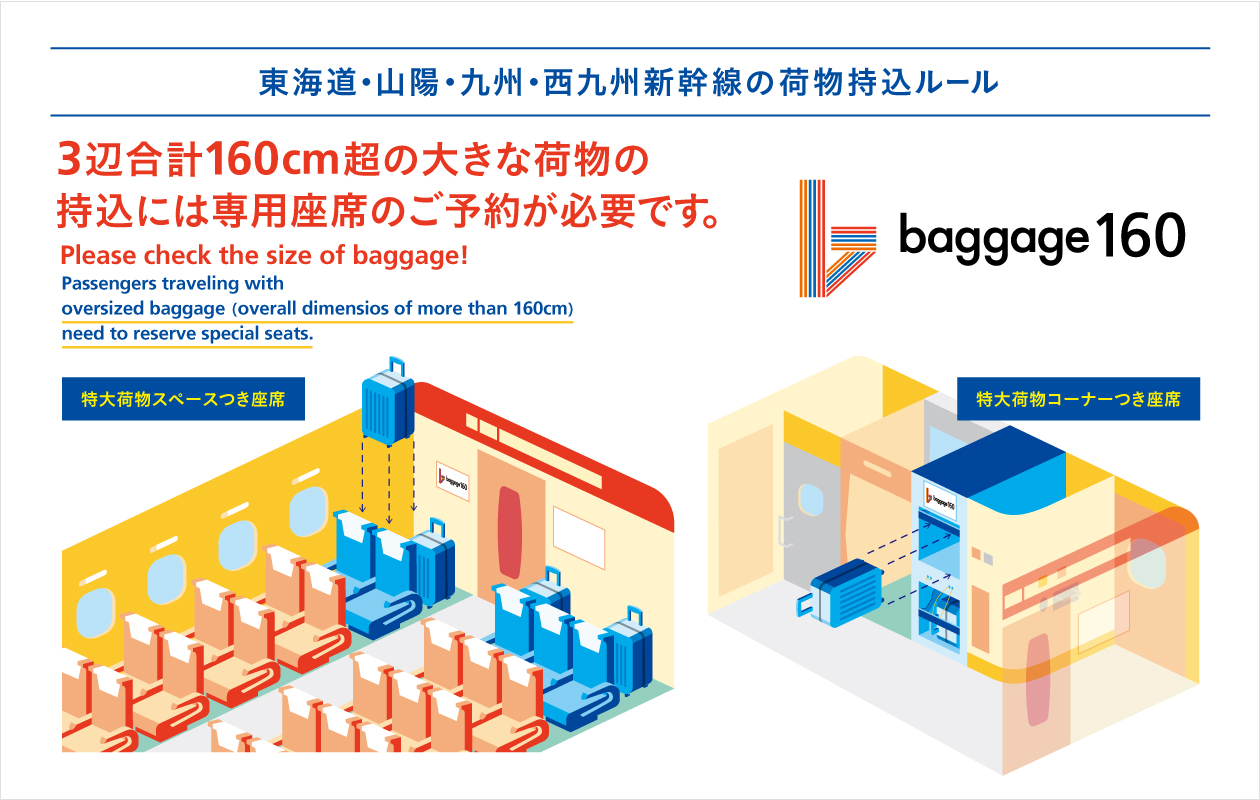 Image source: JR Central
If you're traveling on the Tokaido, Sanyo, Kyushu, or West Kyushu Shinkansen, you need to be aware of recent changes in luggage regulations.
If a passenger is carrying luggage with a total of three dimensions exceeding 160cm but less than 250cm, they need to make an advance reservation for special seats designed for oversized baggage. These seats are usually at the rear and provide space behind the seats for luggage storage or have dedicated luggage storage areas.
If the total dimensions of the luggage exceed 250cm, it cannot be taken on the train, regardless of whether a reservation was made.
For more details, you can visit the website here.
Can You Ride the Shinkansen with Suica/ICOCA and Other IC Cards?
If you are not using services like "タッチでGo!新幹線" (Touch and Go Shinkansen), "新幹線eチケット" (Shinkansen e-Tickets), or "スマートEXサービス" (SmartEX Service) provided by JR companies, you cannot use your Suica card to ride the Shinkansen. You must purchase paper tickets instead.
This issue has been a topic of discussion within Japan as well. Many Japanese residents have questioned why they cannot use Suica, ICOCA, or other IC cards to ride the Shinkansen. In recent years, JR companies have gradually introduced methods that allow passengers to use IC cards to ride the Shinkansen. However, due to various limitations, for foreign tourists visiting Japan who may not be familiar with Japanese railway transportation and the language, purchasing paper tickets is the simplest and least error-prone method.
(Visited 1,143 times, 2 visits today)
GetAround Japan is your number one travel guide, providing the latest information on visiting and living in Japan, with tips on what to eat, things to do, and places to stay.

Whether you're planning for a trip far in the future, or already in Japan in need of some fresh ideas, our archive of posts will help you find the best way to fill your time and get the most out of your travel experience.
We provide you updates on serious policies that affect visitors and foreign residents while also keeping things light and fun with articles on quirky trends and pop culture.

How do we know how to provide visitors the information they need? Our affiliate company CDJapan Rental provides WIFI and Sim Card rentals to thousands of visitors to Japan every year. In other words, we are constantly in touch with and listening to the voices of our customers, and infuse our blog with the information they ask us for.

For inquiries, contact us here

=Company Information=
CDJapan Rental (Neowing Corporation) 1-10-15-3F Nihonbashi Horidome Chuo, Tokyo 103-0012, Japan