Not all SIM-free, unlocked android devices work with SIM cards sold in Japan. It will be disappointing if you buy a SIM card and it doesn't work.
In this post, we will explain how to find out if your Android device works with SIM cards sold in Japan. If your phone is Apple's, please check the following post: How to Check if your iPhone Works with SIM Cards in Japan
1. Find out the model/Version number
The information is in your device. (It may not show exactly the same as below depending on your model.)
Go to…
Setting > About phone > Model number
Or, usually, the model number is indicated on the back cover or the side of the device, or on the sticker attached to the device.
*IMPORTANT*
The model number you need to find out is NOT just the brand name such as "Samsung", or just "GALAXY S4" but the version number that follows. Most of the time, there are more than one models designed to work in different parts of the world.
2. Look up the Model/Version number
Look up the model number and your product name (Ex. "Galaxy S21 5G SC-51B") on the internet, preferably on the official website of the brand. Find out its network specification.
3. Check the model's network specification
Check out the section that says "Network", "Frequency" or "Cellular and Wireless". There, you will find the necessary information. What networks is your device capable of functioning on?
4. These are the networks/frequency most prepaid SIM cards work on.
Please check the SIM card's spec you are planning to buy, if may be different from this.
4G(LTE): Band 1 (2100MHz), Band 19 (800MHz), Band 21 (1500MHz)
3G(W-CDMA/HSDPA/HSUPA): Band 1 (2100MHz), Band 19 (800MHz)
Ideally, your device can connect to all above bands; Band 1, 19, and 21.
– If your device can connect to Band 1, your device will catch signal in most cities.
–Band 19 covers suburb areas. If you are going to be in mountains or suburbs, your device may lose signal if it can't connect to this band.
–Band 21 provides extra speed in cities.
5. Check the size of the SIM card, too.
When you check the specification of the device, double check the size of the SIM card, too. Many people who order Regular size SIM card realize that their device actually needed a smaller SIM after receiving the SIM card. Please check the size of the SIM card and order the correct size.
*SIM Size:
Regular/Standard/Mini: the bigger one
Micro: the middle one
Nano:the smaller one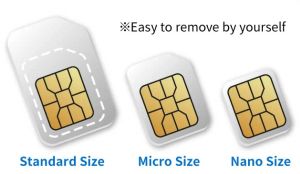 6. Make sure the model is not Region-locked.
Some brands sell different versions in different regions. Sometimes they are region-locked. If it is region-locked, you cannot use SIM cards from different regions or you are not supposed to.
7. You also have an option to rent a mobile wi-fi.
If your device is not compatible or if you are not sure about your device, or if you want a stable connection in Japan, we recommend you book a mobile wi-fi.
Check out CDJapan Rental!
CDJapan Rental (SIM Card and Mobile Wi-fi Rental in Japan)
(Visited 6,736 times, 4 visits today)
GetAround Japan is your number one travel guide, providing the latest information on visiting and living in Japan, with tips on what to eat, things to do, and places to stay.

Whether you're planning for a trip far in the future, or already in Japan in need of some fresh ideas, our archive of posts will help you find the best way to fill your time and get the most out of your travel experience.
We provide you updates on serious policies that affect visitors and foreign residents while also keeping things light and fun with articles on quirky trends and pop culture.

How do we know how to provide visitors the information they need? Our affiliate company CDJapan Rental provides WIFI and Sim Card rentals to thousands of visitors to Japan every year. In other words, we are constantly in touch with and listening to the voices of our customers, and infuse our blog with the information they ask us for.

For inquiries, contact us here

=Company Information=
CDJapan Rental (Neowing Corporation) 1-10-15-3F Nihonbashi Horidome Chuo, Tokyo 103-0012, Japan