Although Japan has not yet opened its doors to international students and those who are planning to work in Japan, I believe that many people are already prepared to move to Japan. When you arrive in Japan, some people will choose to live in a "dormitory" provided by schools or companies, but many people will need to rent an apartment in Japan on their own. What do you need to pay attention to when renting an apartment in Japan? What kind of trouble will you encounter? What are the courtesy money and shikikin?
Gift money and Shikikin
Let's talk about gift money and shikikin first.
Shikin
First of all, "shikikin" means "rent deposit", or it can be said as "security deposit", "guarantee deposit". It also means "security deposit" or "guarantee". Generally speaking, there are two types of security deposits: a deposit of one month's rent and a deposit of three months' rent (there may be other cases depending on the landlord's wishes).
When you leave the property in the future, a professional will assess the damage to the property and return it to you after deducting a certain amount from the security deposit. If the damage to your home is serious (e.g., smoking blackened ceilings, large areas of wallpaper falling off, obvious damage to the floor, etc.), then it is likely that all of the security deposit will have to be used to compensate you after the settlement.
So be sure to take good care of your house ah.
There are also some houses where the security deposit will not be refunded but will be used to cover the full cost of repairs after the rental. It is important to make sure that the security deposit will be refunded before renting the apartment to avoid any unpleasant surprises when you check out.
Gift money
Gift money is perhaps unique to Japanese rental culture.
Generally speaking, the amount of the gift money is about one month's rent, and it is paid together with the security deposit at the time of renting. Unlike the security deposit, which may be refunded, the gift is a gift, as the name implies, expressing the renter's gratitude for the landlord's willingness to rent the apartment to him or her, and is therefore not refundable.
Of course, if you don't want to give your landlord a month's rent for nothing, there are plenty of properties on the market that don't require a gift.
Basic process of renting an apartment in Japan
In the past, if you wanted to rent an apartment in Japan, you had to come and meet with the agent (or even the landlord) in person and inspect the property before you could sign. However, there are a few properties that support remote rentals from overseas that are coming up one after another. Although there aren't many, it's nice to think that you can move into your new home as soon as the plane lands, eliminating the need to find a room on-site, stay in a hotel, and move in a hurry.
But this time we are mainly talking about how to rent an apartment when you come to Japan.
First of all, you need to find a suitable apartment. One is to go directly to the area of your choice and look for a rental company directly. Usually you will see vacant properties displayed by various agencies on the roadside, and there are also various properties posted on the glass walls of stores. If you see something you like, you can go directly into the store and ask about it. Another option is to search for suitable properties on rental websites, such as SUUMO, at home, LIFULL HOME'S, and so on. These sites support searching for properties by keywords such as station and area, and there are even some that allow you to search by commute time, which is very convenient. If you see a property you like, you can contact the agent through the website.
Then it's time to see the property on-site. You can make an appointment with the agent to meet at a place and then go to see the property together.
If you are satisfied with the property, then you can come back and discuss the contract directly. After that, you can pay the down payment and make an appointment for the delivery date, and then you can get the keys near the delivery date and move in on the same day.
This is probably the basic process of renting an apartment in Japan. If you have a reliable agent, then you just have to do what the agent says.
Do you have a Japanese guarantor?
One big problem with renting an apartment in Japan is that some landlords require you to provide a Japanese guarantor.
A guarantor, in layman's terms, is required when a tenant does not pay the rent, utilities, leaves the apartment early, or refuses to pay for damage to the apartment, and the landlord is unable to contact the tenant.
Furthermore, many landlords require that the guarantor provided by the tenant be a Japanese national (Japanese or foreigner who has joined Japanese nationality) or at least a foreigner who has obtained permanent residence status.
If you are unable to provide a guarantor, then some properties may not be available for rent. You need to make sure with the agent (or even the landlord) beforehand so that there is no delay.
What to look for in a daily rental
So let's move on to the things you should be aware of when renting an apartment in Japan.
First deposit
After signing the contract, you need to pay a down payment.
The down payment usually includes the following.
Shikikin (security deposit, usually one month's rent)
Gift (usually one month's rent)
First month's rent fee
Brokerage fee (usually one month's rent)
Various insurance premiums
Service and material fees for key distribution
This adds up to a down payment of about 4-5 months' rent, and credit cards are not usually accepted.
Photos
One thing to remember when moving into a new home is to take pictures.
It's a good idea to take pictures, not just a general picture of the house, but to look at every corner and take pictures of the damage and other marks that are already there.
Furniture and plumbing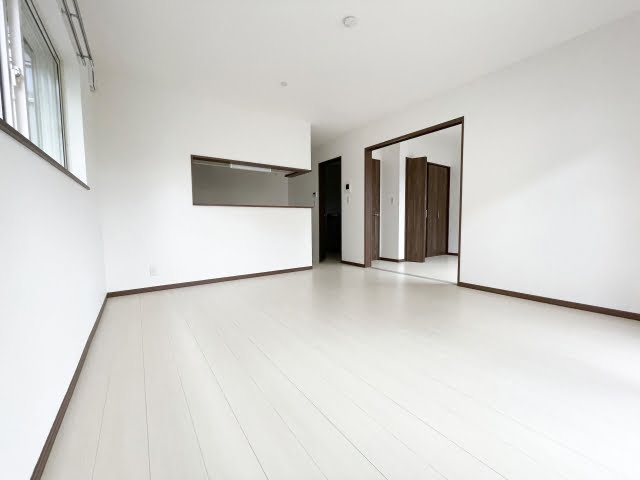 Japanese houses are different from other countries in that they basically do not contain any furniture and appliances except for air conditioning. It is as empty as the picture above.
In other words, you need to buy your own furniture, including large pieces of beds, refrigerators, washing machines, TVs, sofas, tables and chairs, and small pieces of lamps, microwaves, pots and pans. If you are shopping online, it is best to choose the delivery date on the day you move in, so that you do not have a place to eat and sleep after moving into your new home.
Electricity and water are also not turned on by default, you need to contact the water department and the electricity company to install and turn on. Therefore, before moving into your new home, it is best to contact the Water Bureau and the electric company in advance and set the opening date to the first day you move in.
(Visited 505 times, 1 visits today)
GetAround Japan is your number one travel guide, providing the latest information on visiting and living in Japan, with tips on what to eat, things to do, and places to stay.

Whether you're planning for a trip far in the future, or already in Japan in need of some fresh ideas, our archive of posts will help you find the best way to fill your time and get the most out of your travel experience.
We provide you updates on serious policies that affect visitors and foreign residents while also keeping things light and fun with articles on quirky trends and pop culture.

How do we know how to provide visitors the information they need? Our affiliate company CDJapan Rental provides WIFI and Sim Card rentals to thousands of visitors to Japan every year. In other words, we are constantly in touch with and listening to the voices of our customers, and infuse our blog with the information they ask us for.

For inquiries, contact us here

=Company Information=
CDJapan Rental (Neowing Corporation) 1-10-15-3F Nihonbashi Horidome Chuo, Tokyo 103-0012, Japan