Hokkaido is known as a gourmet's paradise. This land, covered with snow for much of the year, is known for its richness of produce.
In Japan, Hokkaido is very suitable for various agricultural production due to its good climate. Hokkaido is the number one producer of various crops in Japan and the number one producer of dairy products in the country. Hokkaido is also surrounded by the sea and produces high quality seafood, which attracts a lot of tourists every year.
Do you know what kind of food is available in Hokkaido? If you travel to Hokkaido, what kind of food would you choose?
We will introduce you to some of Hokkaido's typical dishes.
If you are visiting Hokkaido on a free trip to Japan, you might want to try them out!
CDJapan Rental has a great deal on pocket wifi, with a range of flexible plans starting at ¥187/day.
Japan Pocket Wifi Rental
Genghis Khan Grilled Lamb
If you have to say what is the most popular food in Hokkaido, I believe most people's first choice is Genghis Khan's roast lamb. Some people even take a special flight to Hokkaido just to have an authentic Genghis Khan meal – if you have plans to eat this dish in the future, remember to make reservations in advance, the famous Genghis Khan roast lamb restaurants in Sapporo are often full, if you do not reserve a seat in advance, it is likely that you can only look at the entrance of the restaurant! If you don't make a reservation in advance, you will probably have to look at the "lamb" in front of the restaurant (laughs).
The name of the dish comes from the Genghis Khan you know, the famous man in history. The Japanese name of the dish is Jingisukan, which is the Japanese pronunciation of Genghis Khan. There are rumors that this dish was created by Genghis Khan for his soldiers during his expedition, but this is just a legend. It is said that the dish was created by Japanese people who came across Chinese "roast lamb" and returned to Japan to improve it to better suit Japanese tastes. (Originally translated from the Japanese Wikipedia ジンギスカン (cuisine))
When eating Genghis Khan's roast lamb, a special type of pot is often used, called a Genghis Khan pot. The center of the pot is raised and the surface is grooved, resembling a tall helmet. When roasting lamb, a large portion of thin sliced lamb is placed in the center, surrounded by bean sprouts, radishes, lettuce and other vegetables, and the fat and juices from the roasted lamb are swept around in the grooves of the pan and absorbed by the vegetables, and with the special roasting sauce, both the meat and the vegetables are delicious.
Soup Curry
Soup curry is a famous dish in Sapporo, a large city in Hokkaido.
There is a Japanese saying "カレーは飲み物(Curry is a kind of drink)", and Hokkaido's soup curry brings this saying to the forefront.
Compared to the thick taste of curry, soup curry is more like a bowl of delicious soup with a curry flavor. The chef adds a variety of Hokkaido vegetables, beef, chicken, and other meats to the soup. The richness of the curry and the freshness of the vegetables are mixed together in a bowl, creating a wonderful contrast and a wonderful blend.
Hokkaido Fried Chicken Zangi
You may have heard of kara-age, or Japanese fried chicken, and you can often find it in Japanese izakaya or Japanese family restaurants. However, Hokkaido's fried chicken is not called Kara-age, but Zangi, which is a unique Hokkaido flavor.
The difference is that regular Japanese fried chicken is not seasoned, either in the chicken or in the flour that is wrapped around it. When you eat it, you often need to dip it in the sauce.
However, Hokkaido's Zangi chicken is carefully seasoned. The chicken is marinated in soy sauce and sake and covered with a layer of wheat flour mixed with spices. This is the difference between Hokkaido's Zangi fried chicken and the richness of its flavor without dipping it in the sauce.
Hokkaido Ramen(Noodles)
Ramen is one of Japan's most iconic foods, and each region has its own specialties. In Hokkaido, due to its vast geographical area, many different types of ramen have emerged. In general, the top three are Hakodate Ramen, Sapporo Ramen and Asahikawa Ramen.
Hokkaido
Asahikawa Ramen
Asahikawa
The ramen originated in Asahikawa City, Hokkaido. The soup base is usually W soup, which is a double soup base of fish soup and meat soup. The Japanese pronunciation of "W" is similar to the Japanese pronunciation of "double", so the double soup base is called "W" soup. The top layer of the soup is often covered with a layer of spicy oil, which is also a characteristic of Asahikawa ramen.
Sapporo Ramen
Sapporo
This is the ramen originated in Sapporo, Hokkaido. The soup base is a simple and light pork bone broth, and there are three flavors: soy sauce, miso, and salt. Generally speaking, the miso flavor is more famous.
Curry Ramen・Muroran Curry Ramen
Tomakomai City
※The birthplace is Muroran City.
Ramen with soup curry as the base. The taste varies depending on the restaurant, and the noodles are usually rolled with wheat from Hokkaido, and the curry is seasoned with fruits, vegetables and spices, and pork bone soup.
Hakodate Ramen
Hakodate
The ramen originated in Hakodate City, Hokkaido. It is characterized by its clear soup, saltiness, and coarse noodles. The soup of Hakodate ramen is clearer than that of other ramen, and it is usually served with barbecued pork and fermented bamboo shoots.
*以上資料來自Wikipedia 北海道的當地拉麵
Dairy: Milk and LeTao Cheesecake
Hokkaido is a famous milk producing area in Japan. When you go to the milk section of a supermarket in Japan, almost 80% of the milk is from Hokkaido. Therefore, Hokkaido's dairy products are also known as the best in Japan.
In Otaru, Hokkaido, there is a famous cheesecake store called LeTao, which opened its first store in Otaru in 1998 and has now expanded to the whole of Hokkaido and its surrounding areas, and even has branches in Kanto and Kansai.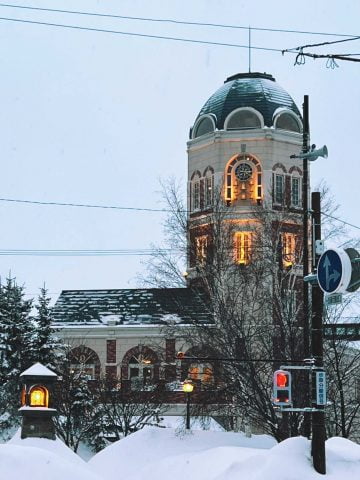 LeTao is best known for its ドゥーブルフロマージュ, a cheesecake. It consists of two layers of cheese, the top layer is soft unbaked cheese and the bottom layer is rich baked cheese. The top layer is soft unbaked cheese and the bottom layer is rich baked cheese. The surface is also sprinkled with a thick layer of cheese powder, and the rich creamy flavor will surely fascinate you when you take a bite.
From:LeTao official website ドゥーブルフロマージュ
Seafood in Hokkaido
Hokkaido is surrounded by the sea, and the seafood caught is superb. There are seafood markets in major cities in Hokkaido, such as the Triangle Market in Otaru, the Kushiro Fish Market in Kushiro, and the Nijo Market in Sapporo.
Here, you can eat fresh seafood over rice, and you can often choose your favorite from the dozens of seafood types offered by the restaurant.
For example, below is a seafood rice bowl made with crab meat, sea urchin and salted salmon roe.
Conclusion
These are the six famous Hokkaido delicacies we have introduced to you!
If you go to Hokkaido next time and try these dishes, don't forget to tell us what you think in the comments!
(Visited 262 times, 1 visits today)
GetAround Japan is your number one travel guide, providing the latest information on visiting and living in Japan, with tips on what to eat, things to do, and places to stay.
Whether you're planning for a trip far in the future, or already in Japan in need of some fresh ideas, our archive of posts will help you find the best way to fill your time and get the most out of your travel experience.
We provide you updates on serious policies that affect visitors and foreign residents while also keeping things light and fun with articles on quirky trends and pop culture.
How do we know how to provide visitors the information they need? Our affiliate company CDJapan Rental provides WIFI and Sim Card rentals to thousands of visitors to Japan every year. In other words, we are constantly in touch with and listening to the voices of our customers, and infuse our blog with the information they ask us for.
For inquiries, contact us here
Company Information
CDJapan Rental (Neowing Corporation) 1-10-15-3F Nihonbashi Horidome Chuo, Tokyo 103-0012, Japan