Have you been to see the autumn leaves in Japan this year? In Japan, the most recommended places to see the leaves are Takao Mountain in Tokyo, Rokugien Garden, and Kiyomizu Temple in Kyoto. But did you know that there is a place where you can take a train through the autumn leaves and enjoy the beauty of autumn leaves at a close distance? This place is Kyoto's Red Leaf Tunnel, and the train you can take is the Eizan Train.
The tunnel is located between Ichihara Station and Ninose Station in Sakyo-ku, Kyoto City, and is about 250 meters long.
The maple trees on both sides of the road cover the sky overhead, making it look like you are walking through a tunnel of red leaves.
Every year, after sunset from late November to early December, more than 100 lights are set up in this tunnel to illuminate the nearly 300 red maple trees.
When the train passes through this section, the interior lights are turned off and the train moves slowly for about two minutes. During this time, people inside the train can enjoy the beautiful scenery of the red leaves illuminated by the lights outside the window.
CDJapan Rental has a great deal on pocket wifi, with a range of flexible plans starting at ¥187/day.
Japan Pocket Wifi Rental
To get to the tunnel, take the Eizan train from Demachiyanagi Station to Kurama Station, and after about 20 minutes, you will pass through the tunnel between Ichihara and Ninose Stations.
Although you can see the foliage and the lights on the regular train, we recommend taking the KIRARA train, because the seats on the regular train are facing each other, so it may be difficult to get a good view from inside the train and to get a good picture. The KIRARA has four rows of double seats facing the windows in the center of the train, and through the large glass windows in front of you, you can clearly see the beautiful scenery of the red leaves reflected in the lights outside. There are also single seats, so you can enjoy the foliage even if you are alone.
There is no need to make a reservation for the Prospect Train KIRARA, so you can take it directly with a regular ticket. The train departs about every 40 minutes, and every hour and 20 minutes on Wednesdays and Thursdays.


Seats of the Prospect Train KIRARA
The following is a promotional video for the Red Leaf Tunnel from the official youTube of the Eizan Train.

Promotional Video for the Red Leaf Tunnel from the Official YouTube of the Eizan Train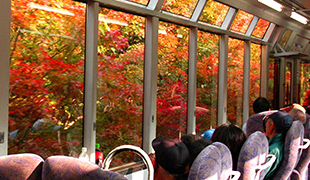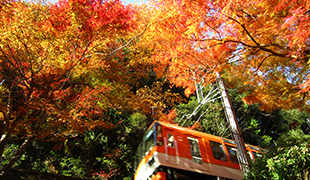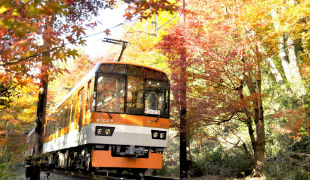 (Visited 414 times, 1 visits today)
GetAround Japan is your number one travel guide, providing the latest information on visiting and living in Japan, with tips on what to eat, things to do, and places to stay.
Whether you're planning for a trip far in the future, or already in Japan in need of some fresh ideas, our archive of posts will help you find the best way to fill your time and get the most out of your travel experience.
We provide you updates on serious policies that affect visitors and foreign residents while also keeping things light and fun with articles on quirky trends and pop culture.
How do we know how to provide visitors the information they need? Our affiliate company CDJapan Rental provides WIFI and Sim Card rentals to thousands of visitors to Japan every year. In other words, we are constantly in touch with and listening to the voices of our customers, and infuse our blog with the information they ask us for.
For inquiries, contact us here
Company Information
CDJapan Rental (Neowing Corporation) 1-10-15-3F Nihonbashi Horidome Chuo, Tokyo 103-0012, Japan