The sixth typhoon of the year, Typhoon Fireworks, which hit the eastern coastal cities of China, is still gaining momentum, and a new Typhoon 8, Typhoon Nepartak, has been generated over the South East Sea in Japan.
The Japan Meteorological Agency has already predicted that Typhoon 8 will land on Honshu Island during the Tokyo Olympics, and the possibility of landing directly from Tokyo cannot be ruled out. Therefore, in view of the onslaught of Nepartak, the Olympic games scheduled to be held on the 26th at the Umi no Mori Water Arena in Tokyo's Koto-Ku have all been advanced to the 25th; while those scheduled for the 25th have also been advanced to the 24th.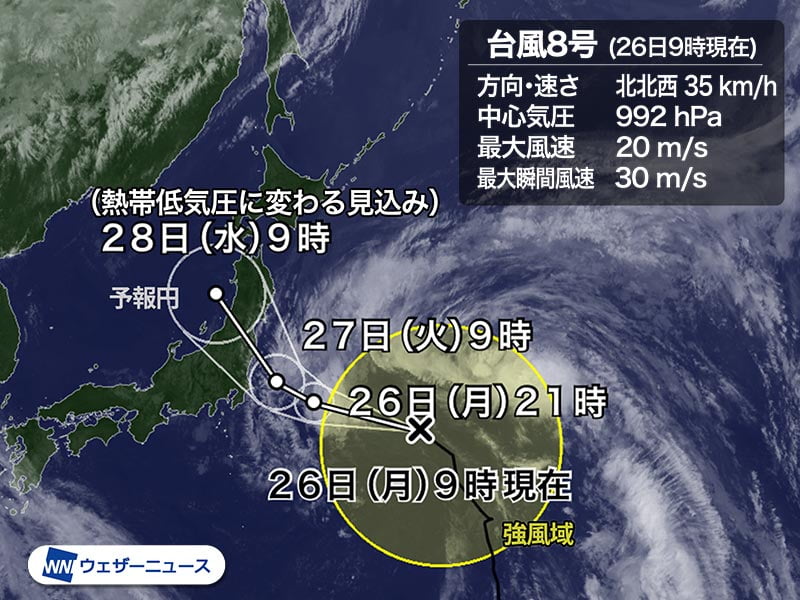 Photo Credit: Typhoon 8 will land in the northeast of Kanto tomorrow 27th (fire). Watch out for strong rain and wind tonight
Nepartak, which was located near the Ogasawara Islands waters 1860 km southeast of Tokyo this morning (July 26), is heading north and is expected to make official landfall in Japan on Tuesday, July 27. According to the current track forecast, the center of typhoon No. 8 is expected to be off Ibaraki Prefecture in the northern part of Kanto Prefecture at 9:00 a.m. on the 27th, and is likely to make landfall in Japan's northeastern region (Miyagi, Fukushima) to Kanto region (Ibaraki, Tokyo) between the evening and night of the 27th, and the possibility of a direct hit on Tokyo is still not ruled out. After landing and crossing the entire Honshu Island, it will weaken on the 28th. Rainfall will continue from the evening of the 26th to the whole period of the Eastern Olympics, and by 6:00 a.m. on the 28th, Kanto and Tohoku regions may face storms and heavy rain.
CDJapan Rental has a great deal on pocket wifi, with a range of flexible plans starting at ¥187/day.
Japan Pocket Wifi Rental
Almost all of the rowing events on the 27th will be suspended or postponed, and the triathlon scheduled to be held at Odaiba Seaside Park from the 26th to the 27th has also been rescheduled. Meanwhile, the schedules of the corresponding events on the 28th and 29th will also be postponed.
This will be the first time that a typhoon will hit the Olympic Games.
(Visited 160 times, 1 visits today)
GetAround Japan is your number one travel guide, providing the latest information on visiting and living in Japan, with tips on what to eat, things to do, and places to stay.
Whether you're planning for a trip far in the future, or already in Japan in need of some fresh ideas, our archive of posts will help you find the best way to fill your time and get the most out of your travel experience.
We provide you updates on serious policies that affect visitors and foreign residents while also keeping things light and fun with articles on quirky trends and pop culture.
How do we know how to provide visitors the information they need? Our affiliate company CDJapan Rental provides WIFI and Sim Card rentals to thousands of visitors to Japan every year. In other words, we are constantly in touch with and listening to the voices of our customers, and infuse our blog with the information they ask us for.
For inquiries, contact us here
Company Information
CDJapan Rental (Neowing Corporation) 1-10-15-3F Nihonbashi Horidome Chuo, Tokyo 103-0012, Japan